IOT make a significant difference on the smart building management with its strong capacities to integrate data and conduct analysis. Among them, LoRa PIR sensor stands out and be expected to be the the most prosperous in smart cleaning management. This solution focuses on data-driven and demand-driven cleaning, it optimizes the schedule based on data and artificial intelligence. The concept and model of professional cleaning practice are changed by being able to know when and where cleaning services are needed.
Challenge of LoRa PIR sensor in smart cleaning
In order to intelligently plan and optimize the route and schedule of cleaning, it's necessary to deploy a reliable and stretchable LoRa network that can collect and integrate the occupancy data about the architecture utilization rate. Therefore, LoRa cleaning solution need low-cost, easy-to-deploy passive infrared motion sensors with long battery life, uninterrupted connectivity, and excellent indoor RF performance. In addition, LoRa gateways is also required to act as a secure intermediary between sensors and the cloud to handle communication and manages information that moves in both directions.
Why choose LoRa PIR sensor from your smart cleaning system
Our gateway and PIR motion sensor is an ideal indoor technology to provide scalable, remote, low-power and secure two-way communication, it can support the collection of key data metrics related to building and room occupancy statistics and patterns. By simplifying and improving the efficiency of data collection,our sensor can provide accurate occupancy data to ensure the actual cleaning requirement and generate a dynamic route for cleaner. Reliable sustaining online connectivity,long battery life and excellent indoor IR performance are the competitive edge of our LoRa cleaning sensor. It can be deployed in reserved position quickly and economically.
What does our LoRa cleaning solution involve?
MOKOLoRa provide one-stop service,our solution include LoRa PIR sensor,gateway,parameter setting,and so on.
Our LoRaWAN gateway is a wireless device that can carry high capacity in a single network with the ability to simultaneously send and receive hundreds of messages per second from devices deployed near them. Once the LoRaWAN motion sensor is located,our IOT software infrastructure will be arranged to operate the whole LoRaWAN integrated devices,by collecting the data,the access to the end application can be enabled. Thanks to the architecture, MOKOLoRa provide a streamlined routine from hardware to cloud at the core of our system. In simple terms, it allows various types of sensors to be connected to any ERP system or application based on different connectivity technologies and deployed in public or private clouds. It can quickly validate proof-of-concept early in a project and then expand to feasible solutions. Besides,it also allow you to develop your application based on our IoT basics. In this way you can focus on creating more values on your core business in smart architecture without bother yourself to deal with the complexity of internet connectivity. Moreover, LoRa module can also be provided if you want.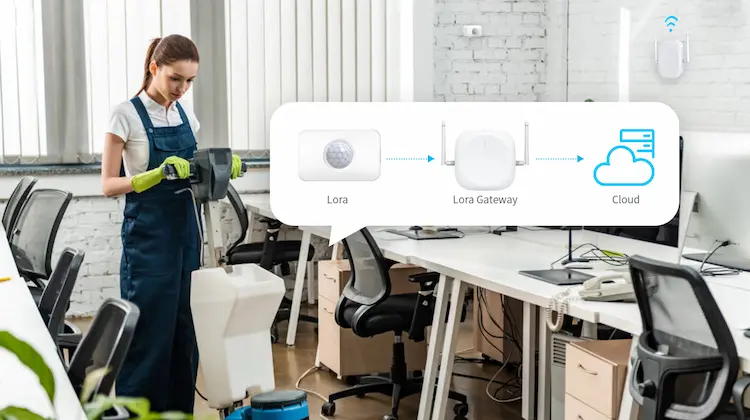 How can LoRa PIR sensor be used?
The PIR motion sensor detects the presence of people by temperature and movement frequency. When a room is empty for a long time, the system can optimize cleaning plans and dispatch cleaning tasks. The application scenarios are as follows:
1. Shopping mall
Have you noticed that many shopping malls are using cleaning robots, which perform cleaning work all day long in the shopping mall, though it saves manpower in some way, electricity is wasted. Some stores have scheduled the cleaning robots to run, or have someone check when to turn them off, however, these are far less convenient than deploying cleaning sensors. LoRa PIR sensor can optimize the schedule and make a cleaning route based on the analysis of consumer traffic and other activities. In this way,robot can execute the cleaning work out of rush hour to make sure the shopping mall keep a tidy environment and improve the shopping experience.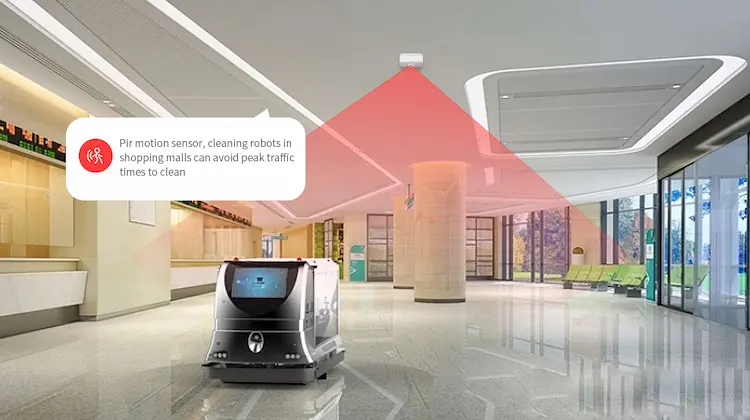 2. Washing room
When we are washing our hands in the bathroom or waiting in line, we can often see the cleaners cleaning up inside. To be honest, this can cause inconvenience for both parties when there are too many people. They work irregularly. When the PIR motion sensor does not detect any activity in the toilet for a long time, the task alarm will be triggered and the cleaning task can be distributed to them. Their work efficiency is improved and people who come to the toilet will not be embarrassed by such things any more. In addition, many cleaners have quit their jobs during the COVID-19 pandemic because it's too risky to expose them to public work. Now that our LoRa PIR sensor can prevent them from cleaning around the crowd, cleaners can rest assured to do their job without pressure.
3. Office
Daily disinfection is a necessary countermeasures for preventing the covid-19 in the workplace, especially in large companies. But there are some areas that no one have been there, so it would be unnecessary to invest large manpower to disinfect untouched areas repeatedly. LoRa PIR sensor resolve this issue by informing the cleaners to pass these zone. What's more,there's another scenario that apply such sensor,it's when there are meeting holding,then it can reschedule a new route and let the cleaner clean other zone that are not involve in any human movement.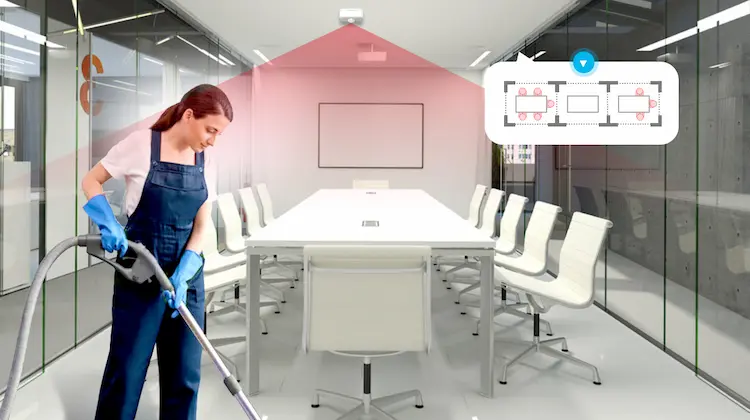 Achievement – LoRa PIR Sensor
MOKOLoRa have provided the connectivity required to deploy in 4 countries, 90 cleaning tasks have been finished yet.
After deployment, over 2 million IoT events have been captured and the processing hours are over 80,000.
LoRa PIR sensor is proved to save 15% costs on average,quality and transparency have been improved.