When it comes to IoT, it is clear that it is increasingly permeating the industrial, commercial and consumer sectors. The number of LoRaWAN devices in connected factories, smart cities, smart utilities and other applications is expected to reach $6.2 billion by 2026. This is not surprising – cost-effective and energy-efficient connectivity over large areas is in high demand. So how do you choose the best LoRaWAN network for your business? This article will help you understand what a LoRaWAN network is, what it does, and its benefits, and list some of the best LoRaWAN network providers for your reference – all to find the best option for you!
What is a LoRaWAN network server in IoT
The LoRaWAN network server is the central part of the LoRaWAN IoT network, and it is the protocol processor that connects the gateway and the cloud platform in the LoRaWAN network. The network server authenticates and connects all gateway and node devices, and provides management for user access. At the same time, it can synchronize the time for the devices in the same network, and provide stable communication between the device and the terminal application.
In the process of data transmission, the module uploads the information collected by the terminal to the gateway, which is responsible for the temporary storage and transparent transmission of the data, while the network server and cloud system are the brains of the network, performing data processing and control feedback. A communication process can be initiated by the terminal node or by the application server. The gateway and the network server only implement the work of transparent transmission and network management, and are not directly related to the business.
What are the capabilities of LoRaWAN network server
The core network server is an essential part of the LoRaWAN wireless network, providing functions such as terminal node access authentication, gateway access control, LoRaWAN protocol analysis, data transmission, data encryption and decryption, data format conversion, etc. It comes with the intelligence demanded to manage the network and distribute data to other servers. The following will show you some of the capabilities: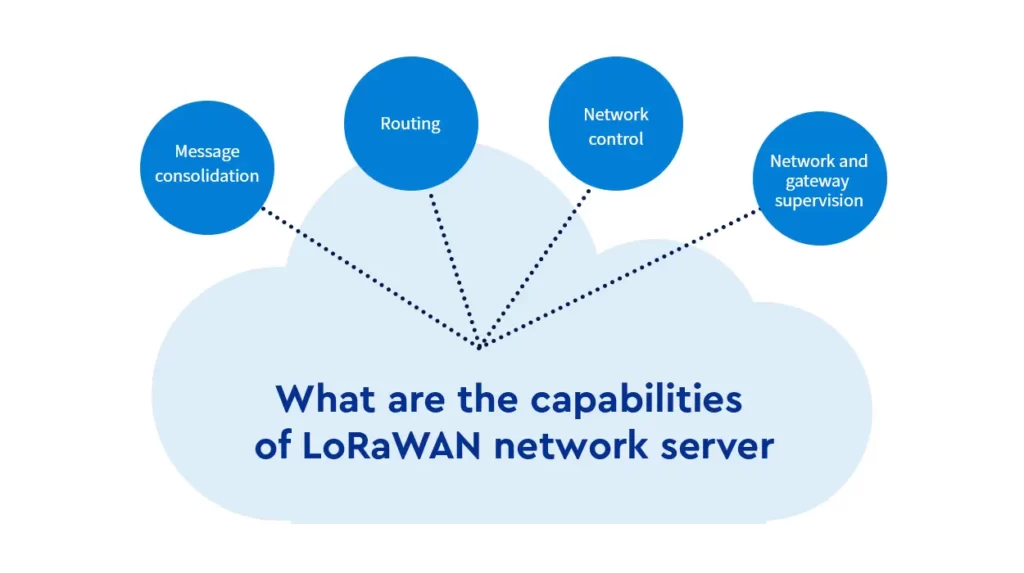 Message consolidation: Multiple copies of the same packet from multiple gateways are forwarded to the network server. The network server records these data packets, analyzes the reception quality of the data packets, and notifies the network controller.
Routing: For the downlink, the network server determines the best route to the end node. Generally, this determination is based on a link quality indication of a previously transmitted packet, calculate from a received signal strength indication (RSSI) and a signal noise ratio (SNR).
Network control: Link quality also helps to determine the most relevant communication speed or spreading factor for a certain end node. This is what we call ADR (Adaptive Data Rate), or adaptive data rate policy, which is handled by the network controller.
Network and gateway supervision: Gateways are usually connected to network servers via encrypted IP links. The network typically contains gateway management and monitoring interfaces that allow network providers to manage gateways, handle fault conditions, monitor alarms, and other functions.
In addition, the core network communicates with other servers, organizes roaming, connects to customers' application servers, and more.
Different types of LoRaWAN network server
LoRaWAN is a wireless transmission technology developed for applications and sensors that need to send and receive small amounts of data between devices over long distances several times per hour, or just once a day. Its network can be public (depending on the telecom carrier) or private (the network elements such as gateways and servers are controlled by the user). To help you get a better sense of this communication technology and make the best choice among the various LoRaWAN network providers for your needs, we will explain the differences between the two networks.
LoRaWAN Public network
LoRaWAN Private network
Deployment
1. purchase subscription service
2. Declare sensor on the operator platform
3. Activate the sensor
4. Data is retrieved on the operator platform and redirected (or not) to the data processing platform.
1. Purchase one more gateways as needed
2. Deploy them on their site
3. Declare the sensor in the gateway
4. Create a connection between the gateway and the processing platform
5. Activate the sensor
Pros
Easy to use; complete internet network provided by the operator, ideal for national deployment or dispersed in a region
Better indoor coverage, autonomous control network coverage, customized network; better data privacy, local data management; low operating cost and total cost of ownership; low battery consumption and long battery life
Cons
Higher operating expenses depend on the operator's network coverage and its limitations. From an economic point of view: depending on the number of sensors deployed, sensor subscription can be expensive; international costs can be high due to roaming charges; low quality indoor range or specific locations. High battery consumption and short battery life.
Higher upfront capital expenses and network infrastructure maintenance costs
Subscribing to a public network is more appropriate when covering a larger geographic area and leveraging several sensors. Users can gain benefits from the telecom operator's services and platforms, such as managed network infrastructure and roaming services. However, if the user is looking for a better indoor range, scaling up, consuming multiple sensors with an affordable battery and still meeting high security requirements, a private network can be used.
Users who aim to monitor and manage buildings, factories, campuses, etc. should take private networks into account. Reliance on carrier network coverage can come with limitations, and, financially, telecom subscriptions can become prohibitively expensive if you deploy a lot of sensors. In a private network, the enterprise is responsible for installing and deploying the associated network infrastructure such as devices, gateways, servers, business applications. In terms of scalability, this may be more cost-effective in the long term for a large number of connected devices.
Basic criteria for selecting a LoRaWAN network
There is nothing black and white. The LoRaWAN public and private networks are not incompatible, and the lines between them may be obscure. A private network can be a great complement to a nationwide public network, and vice versa. When choosing from many LoRaWAN network providers, the most important is the technical and budgetary requirements of users. The basic criteria for selecting a LoRaWAN network are summarized as follows:
Network coverage quality
Distribution and layout of sensors (country, city, region, building)
Within a facility: installation for indoors, outdoors or underground
The number of sensors deployed and the frequency of communication required
Sensor safety and longevity
Subscription fee
A growing number of industry players, facility management companies, and property owners, are searching for an affordable and simple way to apply LoRaWAN in large and small to medium-sized buildings. For large commercial buildings, there is an urgent need to improve operational and management efficiency. For small multi-family residential projects, easy installation and maintenance capabilities, and low cost deployment appeal to community users.
Key questions to ask LoRaWAN network providers
Unlike the public network that is shared and used by multiple users, users deploying a private network can manage their own IoT sensors and network infrastructure. Private networks can be set for short-range communication within an area. Here are some key questions to ask prospective vendors when evaluating private LoRaWAN network providers:
How much it will cost to deploy and support the system
Is the network server compatible with other devices
What number of gateways can it support
Is it easy to set up and configure
Is it secure enough against malicious attacks and data theft
What happens if there is any problem or interruption in service
What level of support do they offer
…
The questions above can help you better understand what each provider has to offer and how their subscription services can meet your specific needs. Therefore, you can choose an ideal network service from various LoRaWAN network providers.
LoRaWAN network providers you should know about
As a technology with commercial experience in the field of low power wide area network and narrowband Internet of Things, LoRa and LoRaWAN received extensive attention. With the acceleration of the popularity of the Internet of Things, the LoRaWAN-based IoT dedicated network will be applied in a wider range. At present, there are relatively few suppliers of LoRaWAN network servers in the world. Here, we've selected several famous LoRaWAN network providers.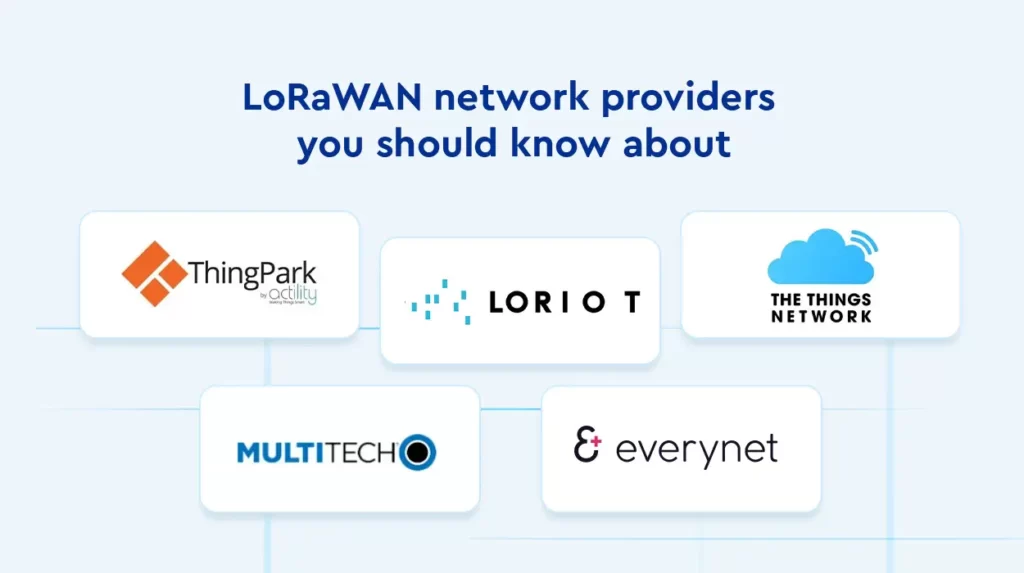 The Things Network
The Things Network (TTN) is one of the often mentioned LoRaWAN network providers, the company provides managed network access services for many LoRaWAN gateways, as well as REST interfaces for user applications. It aims is to build an open LoRaWAN network with international coverage.
ThingPark – Actility
The more famous one is Actility in France, which has a high price and currently only supports some frequency bands abroad. Actility is the world leader in IoT network management and is one of the founders of the LoRaWAN Alliance. It provides a network server for Telecom Operators, called ThingPark.
Multitech
Multitech is a world-renowned supplier of LoRaWAN gateways and sensors. It offers a network service deployed directly in the gateway, which is ideal for deploying one or two gateways. Multitech LoRaWAN network technology offers scalable and intuitive IoT solutions.
Everynet
Eeverynet provides infrastructure partners with innovative solutions to deploy large-scale commercial LoRaWAN networks at a low cost, low risk, and carrier-grade quality. End users now have the opportunity to get seamless LoRaWAN network deployment and management.
Loriot
The Loriot is a LoRaWAN network server service provider of Swiss origin. It provides secure LoRaWAN connectivity and routing of critical data to thousands of gateways and devices. The advanced Network Ranger application is available as a hosted service or on-premises for dedicated customers.