The LoRaWAN® World Expo, organized by the LoRa Alliance, has just taken place in Paris on 6 and 7 July. In fact, the event was originally scheduled for June 2020, but was postponed several times due to the COVID-19 pandemic. Members of the LoRa Alliance and all IoT solution vendors interested in LoRa technology have high hopes for the 2022 conference. As they expected, it was clear that the event achieved its goals and commitments, with over 1,100 people attending the conference, a wealth of conference and workshop content, and more than 70 companies showcasing their products based on LoRa. The LoRaWAN ecosystem is performing a great job, it is obvious!
The rapid development of LoRaWAN
According to the LoRa Alliance, the number of public LoRaWAN networks worldwide has grown by 66% over the past three years. What has changed? How will LoRaWAN promote its future? Donna Moore, chairwoman of the LoRa Alliance, gives her answer in an inspiring keynote – Why LoRaWAN is Essential.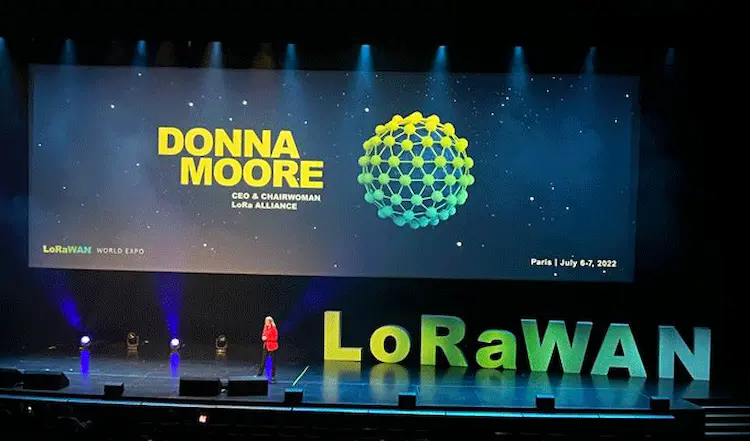 In her inspirational keynote, Donna examines current trends driving transformational change, LoRaWAN's growing role as an agent of that change and what that means for the future of LoRaWAN itself. She described how LoRaWAN is an essential technology because it can improve the health, safety, and welfare of our global citizens, increase our plant's sustainability and drive business efficiencies. Since the LoRa Alliance was founded, members have devoted themselves to evolving the LoRaWAN standard and focusing on its security, ease of deployment, and certification tools. She also added, "our members collaborate actively with other standards to address the expansive IoT market."
LoRaWAN® World Expo inside the Palais des Congrès
During the LoRaWAN® World Expo, a LoRaWAN private network established by the Actility ThingPark Enterprise was put into use. A variety of sensors are mounted around the facility to collect data such as humidity, temperature, carbon dioxide, occupancy status, etc. These sensor data will then be collected through a LoRaWAN Gateway of Motorola Solutions and visualized through KHEIRON Studio of IoTthink. Moreover, fifty participants are equipped with smart badges of Abeeway, and their locations are updated in real-time on the event floor plan.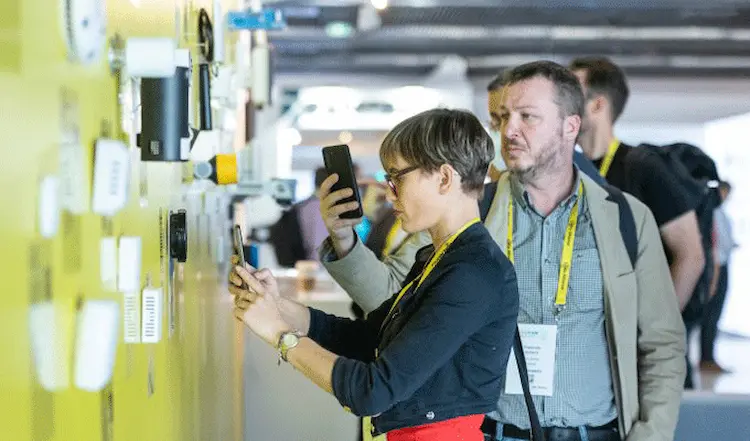 What Was Interesting at The LoRaWAN® World Expo
LoRaWAN enables sustainability and saving the planet
Transforma Insights outlined how LoRaWAN can enable a range of sustainability benefits including reductions in electricity and (petrochemical) fuel consumption and water usage. Transforma Insights aggregate IoT forecasts are based on the analysis and forecasting of ~250 individual IoT applications, and the assessment of the sustainability impact of LoRaWAN will be based on forecast numbers of LoRaWAN connections for each application combined with the sustainability impact of each application.
Natural disaster prevention and recovery technologies
Decentlab GmbH presented their flood and water level monitoring in various environments. They showed how the monitoring already prevented flooding of houses, provided information to optimize sewer system and so show ROI for the monitoring solution. Thingy IOT measured the impact of wildfires and climate change with remote networks. With challenging terrain and limited resources, they look at how LoRaWAN networks support a new set of remote monitoring applications in collaboration with federal, state, and local research organizations.
Satellite connectivity enabled with LoRaWAN
When it comes to LoRaWAN, space is not "the final frontier." EchoStar Mobile (EML) is a mobile satellite operator, providing seamless and reliable connectivity across Europe. EML is launching a pan-European LoRaWAN network. EML believes that satellite has a key role to play in the adoption of IoT across Europe and around the globe.
LoRaWAN in healthcare: smart hospitals, wearables for adults with dementia, and wearables for respiratory health monitoring
Three LoRa Alliance members discussed how their firms impact the health and welfare of people receiving services from our healthcare systems. From making hospital buildings smarter to tracking patients who wander or those whose vital signs need to be monitored remotely, these technology leaders demonstrated how LoRaWAN inspires and enables us to take better care of people.
Smart Heritage Preservation Using IoT and LoRaWAN
Culture heritage defines the history and culture of a country. IoT and LoRaWAN enable the creation of Digital Twins of the heritage assets the sensorization of monuments, art pieces, paintings, sculptures, tombs, etc.
Smart Cities Panel – Serving Citizens via LoRaWAN Enabled IoT Services
The Internet of Things and Digital Transformation create enormous possibilities to improve the lives of people around the world. With an estimated 5 % of the world's population living in cities today, and expected to rise to 70% by 2050 according to the World Bank, cities present an enormous opportunity to disproportionately improve the lives of the people on our planet.
Up next for the LoRa Alliance
LoRa Alliance is coming to San Francisco! On October 11-13 this winter, LoRa Alliance will hold the final LoRaWAN Event and Committee Face-to-Face Meeting of 2022. The LoRaWAN Training sessions will cover how to build an end-to-end solution, enable LoRaWAN device-to-device multicast communications, and set up a tracker on a community platform with roaming.
About the LoRa Alliance®
LoRa Alliance is an open and non-profit association dedicated to promoting the global adoption of the LoRaWAN standard. Since its establishment in 2015, it has developed rapidly and has become one of the largest alliances in the tech industry. Members work closely together and share expertise to facilitate the global standardization of LoRaWAN. It is not only an organization that promotes technical standards, but also a market-oriented alliance to promote industrial ecology. One of the goals of the LoRa Alliance is that LoRaWAN-based end devices will be able to access different networks around the world and enable roaming between different carrier networks in the future.
Join MOKOLoRa to learn all you need to know to get your LoRaWAN solutions up and running.