When it comes to rapid technological advances that have dramatically changed our daily lives, the Internet of Things springs to mind because of its immense connectivity and potential opportunities. With its steps seeping into various industries and sectors, it has become a hot topic of widespread and current concern in recent years. To be precise, IoT technologies are revolutionizing the way people live and work, and we're also ready to embrace the changes that IoT brings to improve our life quality and ease our day-to-day struggles. In this article, we're going to discuss what is an occupancy monitoring system, how it works, and crucially, the benefits of LoRa-enabled washroom occupancy monitoring system.
With the help of the Internet of Things and some hardware, occupancy monitoring system have been proposed to address the unpleasant reality of queues and several visits to the washroom due to its occupancy. The capabilities of the IoT occupancy sensors can assist in detecting space occupancy in a given area.
Why there is a need for restroom occupancy monitoring
In large commercial centers and amusement parks, where footfall is high, but the washroom space is relatively small, most people may have come across the unpleasant experience of queuing up to go to the washroom, and sometimes you even have to visit the washroom for a few times. According to the annual Healthy Hand Washing Survey of Bradley, most Americans prefer to spend more money on business that have clean and well-maintained washrooms. Besides, nearly 60 percent of Americans consciously decide to visit a particular business simply because they know there are nice and comfortable restrooms. Washroom conditions, businesses and customers are more interconnected than we realized.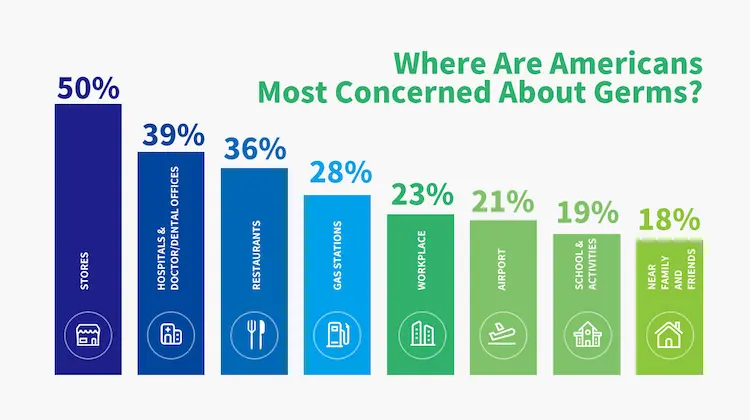 Ever since the outbreak of the COVID-19 pandemic, there has been a greater emphasis on maintaining appropriate social distancing. This growing concern about germs appears to be prompting cleaner public washrooms, as people want to stay away from germs or fear of passing them on to others. Therefore, a sound and advanced washroom occupancy monitoring system is needed to ensure that the washroom is maintained in proper hygienic through regular cleaning and maintenance, so as to deliver users a pleasant washroom experience.
Occupancy monitoring system: What is it
Before diving into what an occupancy monitoring system is, let's learn a little bit about occupancy sensors. To put it simply, an occupancy sensor is a simple piece of hardware that detects the presence of motion within a given range. Washroom occupancy sensors installed on the ceiling outside of each washroom cubicle will detect whether a washroom cubicle is in use, and then send signals to the control unit in real-time.
An occupancy monitoring system refers to a system that uses occupancy sensors to detect some statistic information such as personnel movement, people count, duration and more. By deploying occupancy sensors in different parts of the monitoring area, real-time occupancy data is continuously and periodically transmitted to the gateway, which forwards them to the cloud and then to the central management dashboard, and of course, instant alerts such as flooding in the toilet will also be sent to the manager. The washroom occupancy monitoring solution shows an intuitive way of finding the vacant toilet, which is convenient for the management personnel to allocate resources.
How to benefit from LoRa washroom occupancy monitoring solution
The LoRa-enabled washroom occupancy solution comes with a range of benefits, with smart room occupancy sensors working together to provide the best experience for customers, employees, and business owners, giving a top priority to their well-being and health. Below will show you some of the benefits of using occupancy monitoring system in the washroom context.
Real-time monitoring for washroom occupancy
Typically, traditional manual monitoring adopted 'signed sheets' displayed on the toilet wall to record the daily cleaning routine. Though the manual monitoring activities are carried out on a regular basis, this method tends to ignore the actual usage of washrooms and the data is analyzed after the event. MOKOLoRa motion PIR sensors can help detect if there is any human activity in the current detection area to determine the occupancy of space. The use status of each toilet will be shown through the washroom indicator and guidance screen, and proactive decisions about the management of washrooms can be made to optimize staff scheduling.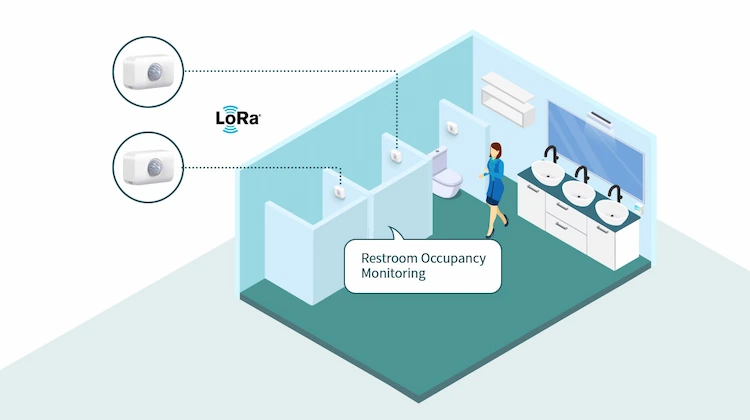 Improving the hygienic environment of washrooms
Creating a well-functioning and clean environment falls at the heart of large commercial space and is an absolute necessity for washrooms. A sanitary washroom facility will earn the trust of your staff and customer, and help build your business reputation. Our LW007-PIR sensor is available to monitor the temperature and humidity of the current environment, and will regularly transmit the data to the server through LoRaWAN. If there are any temperature abnormalities, the device will immediately issue an alarm message to the server, reminding the manager that the current ambient temperature is out of the specified range. Moreover, gas sensors can be deployed to monitor air quality. All combined to provide an optimal and consistent level of cleanliness and hygiene.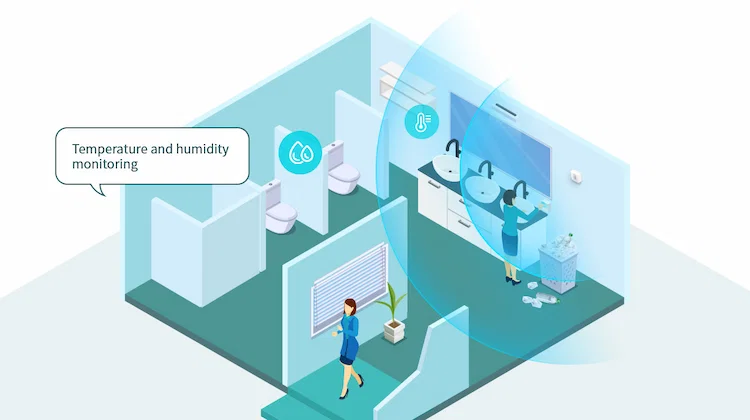 Boosting stakeholder well-being and satisfaction
One of the most obvious benefits of the occupancy monitoring system provided to users is that the health and well-being of customers and employees are reassured. Sanitation and cleanliness of washroom facilities is a common cause of stress for staff and customers. Concerns about hygiene may prevent some customers from using a public toilet, and the same in workplaces. Such restriction could cause less consuming desire for customers and more physical and mental health issues for staff, which eventually result in a business reputation break. With MOKOLoRa smart sensors, necessary information can be collected to help maintain a sanitized and clean washroom environment.
Ensuring social distancing
While the restroom is one of the most traffic-prone areas in a building, it's usually small, enclosed spaces. Social distancing has never been more crucial during the tough times of the COVID-19 outbreak. Now that it's a must-have for every business, it's important to make sure it's followed on all occasions, and the restroom is no exception. When occupancy sensors are installed and connected to a digital screen at the washroom entrance, users can be alerted to avoid entering the crowded space. Door sensors can be used to calculate the number of times a door is opened and closed, thereby calculating the total flow of people.
It is also possible to set a threshold to limit the flow of people, and once reached, the occupancy limitation will be displayed on the digital screen to maintain appropriate social distancing.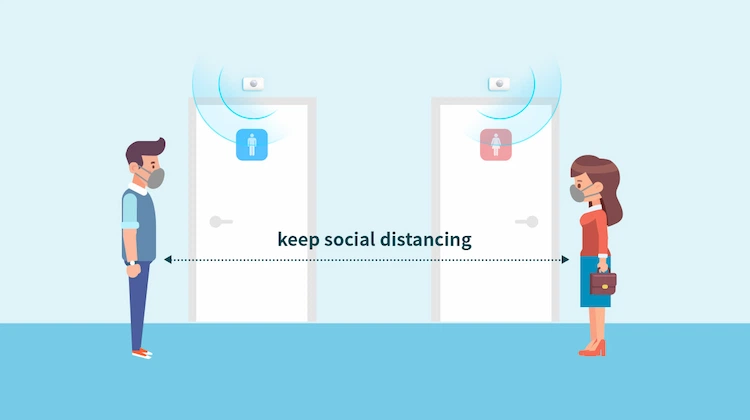 Reducing cost
The benefits of occupancy monitoring system in washrooms and restrooms go beyond real-time occupancy and protection of safety. Improved sanitation can reduce costs to some extent. With the assistance of smart sensors and footfall analysis, you are accessible to better manage your cleaning staff and eliminate waste. For example, turning the lights off of vacant washrooms by integrating occupancy sensors and other smart technologies.
In addition, an enhanced hygiene washroom condition can reduce the spread of illness, which may be seen in the number of sick days taken by employees.
Other scenarios of using an occupancy monitoring system
In a post-pandemic world, occupancy monitoring system play a vital role in providing safe and clean spaces for people. Like a crystal ball, occupancy monitoring sensors will give you an accurate and continuous image of a specified space, which allows you to grasp the actual occupancy of a given range and helps to make reactive decisions guided by valuable data. Here are some possible implementations of occupancy monitoring solutions.
Smart office
In smart offices, occupancy monitoring sensors do not stop at real-time monitoring of washrooms. Making your office space comfortable and user-friendly with occupancy monitoring system is easier than ever. You can monitor your facilities, including desks, meeting rooms, and other spaces, to determine when and how they are being used over time, and of course, to identify whether they are underutilized or overused.
Workplace occupancy sensors detect and monitor occupancy and people flow to provide a continuous stream of space utilization data to help you make informed decisions about how to design workspace and grow or integrate real facilities.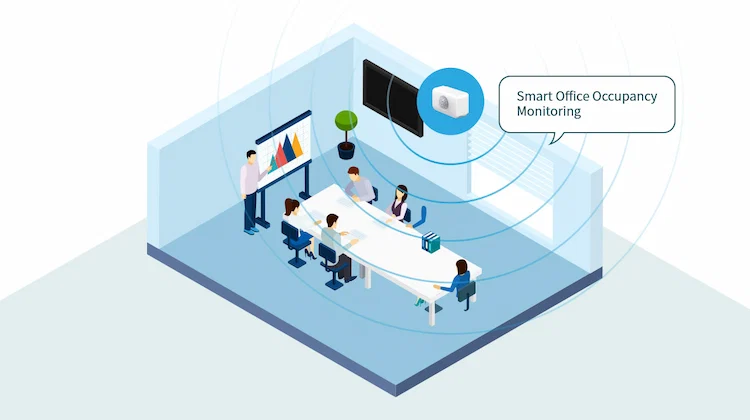 Smart parking loT
As the number of vehicles continues to increase, parking spaces are receiving more and more attention. To reduce traffic congestion in search of vacant parking spaces, a smart parking solution is needed for both drivers and parking managers. MOKOLoRa parking detection sensors enable you to monitor the actual occupancy of the parking lot and provide valuable information for managers to navigate drivers all the way to an empty parking spot.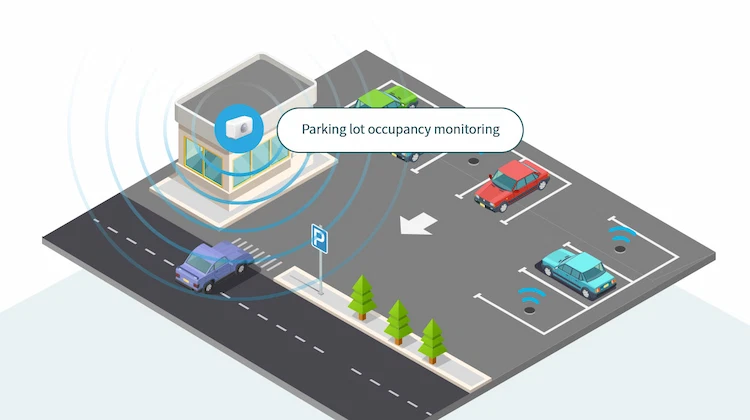 Retail stores
Keeping track of occupancy rates is of great significance for retail business owners. An occupancy monitoring system solution not only help customize a better shopping experience for customers, but also contribute to better staff and inventory management. Customers won't be bothered if a fitting room is occupied or vacant with smart occupancy sensors clearly showing signals, and store owners can adjust the number of fitting rooms according to the customer data.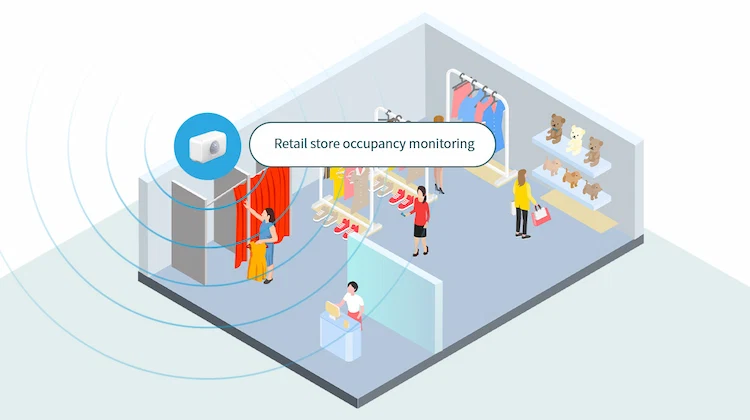 MOKOLoRa occupancy monitoring system solution
The implementation of a room occupancy monitoring system is not as difficult as you might imagine. If you're not sure where to start with this technology at all, or if you're just curious about whether an occupancy monitoring solution is right for a smart restroom or smart office, contact our IoT experts. MOKOLoRa, which specializes in the production of LoRa hardware and software, will offer new opportunities to enjoy the power of connected technology.