Adjusting to the new ways of working has turned into a need for most organizations today. Organizations have become adaptable and have adopted anytime, anyplace work ethos. This suggests incredible changes in the management styles, the group coordinated effort, and the utilization of office spaces. Guaranteeing available space by monitoring office space and meeting room usage has been quite difficult for most facilities. MOKOLORA is centered on advancing the LoRaWAN Technology IoT field in providing shared office solutions to needy companies.
We have broad involvement with the development of LoRaWAN batch products because we are outfitted with proficient assembling hardware, proficient production, and testing engineers to guarantee the stability of product quality.
What Does the Shared Office Solutions Entail?
Shared office solutions is an idea that permits organizations that own an office that have adequate space to lease the workstations to more modest organizations searching for adaptable work areas. This earns income for the organization that runs the workplace and gives a modest, flexible work environment for organizations searching for an office outside their locale.
Some of the types of shared office solutions include:
• Physical collaborative workspaces
• Physically shared workspaces
• Virtual collaborative workspaces
• Virtual shared workspaces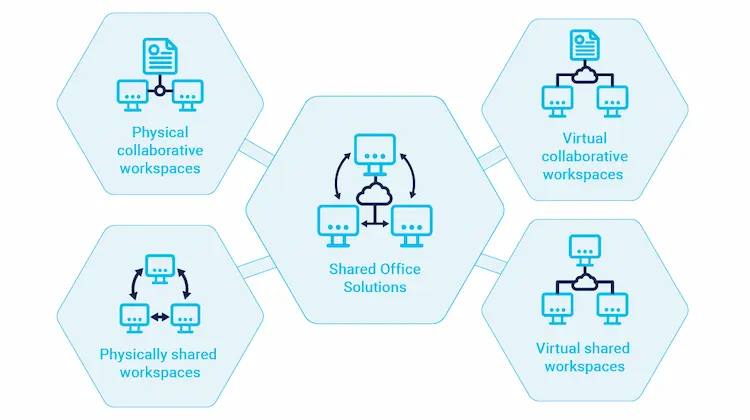 What's Behind the Popularity of Shared Workspace Companies?
It is impossible not to see a rise in the quantity of shared office space ideas springing up in urban communities. Shared workplaces for companies have been around for a while now, and their popularity worldwide has expanded rather quickly over the most recent years. It gives independent ventures a serene and adaptable work area. Additionally, it presents a chance for huge organizations to save on costs. The shared office solutions have acquired prominence in light of its cost efficiency and the general productivity it carries with it.
Since the COVID-19 pandemic, organizations have looked to cut their expenses in every way. This the demand for shared workspaces for companies to skyrocket. Shared office spaces involve new companies and small organizations utilizing an office climate that gives significant expense benefits and does not attach them to extensive leases.
This means that they can enjoy the privilege of having no maintenance costs such as paying utility bills and fixture repairs. Moreover, shared workplaces provide their customers with the freedom to meet and connect with new people practically and consistently. These are great spots to share thoughts, set up community-oriented connections that might generate new business ideas.
The Importance of LoRaWAN Technology in A Shared Office Space Near Me
The LoRa IoT is a channel that interfaces end devices to the administrator's access point. LoRaWAN Technology can be used to monitor spaces for indoor and outdoor assets. Moreover, it provides the operator with real-time data on personnel movement and the occupancy status of office space.
LoRaWAN is great for organizations with high requirements for communication stability over significant distances and low power usage. It allows end gadgets to work autonomously and without re-energizing for quite a while.
Subsequently, it is possible to assemble various types of devices into a solitary system. Some of the advantages of using LoRaWAN Technology to monitor office spaces include:
• Low power connectivity between devices
• A large transmission area
• Low power consumption and long battery life
Hence, making the management of shared office spaces easier.
Advantages and Disadvantages of Shared Office
Everything has its ups and downs, and a shared office solutions is no exception.
Advantages
1. Shared workspace companies are flexible. They provide you with workable plan options, flexible cost options, and space options.
2. These spaces permit people to work intently together and give them with the opportunity of networking with one another.
3. Co-working spaces save you from most expenses such as acquiring new furniture, internet expenses, paying for utilities, or maintenance expenses.
4. These spaces cultivate collaboration opportunities for information sharing and partnerships, ideal for new independent ventures and sprouting entrepreneurs.
5. A large portion of these shared workplaces is located in prime business locales. Their location adds eminence to private ventures and upcoming business visionaries.
Disadvantages
1. You may encounter a fair number of distractions while sharing office spaces which may affect your productivity.
2. Privacy is not guaranteed, particularly when managing private customer information.
3. You do not have the privilege to customize or brand your office space to your liking.
4. Shared working environments do not accommodate growth. They are only ideal for small businesses and freelancers.
Application of LoRaWAN Technology in Shared Office Spaces
As a growing trend in the business world and beyond, what are some of the most basic applications of LoRaWAN Technology in connected workplace areas?
1. Detection of Unoccupied Office Desks
The LoRaWAN Technology has helped solve the problem of identifying. "unoccupied shared office space near me." In fact, the LW004 LoRaWAN Technology panic button by MOKOLORA makes it effortless. Additionally, it can help send the appropriate message in real time.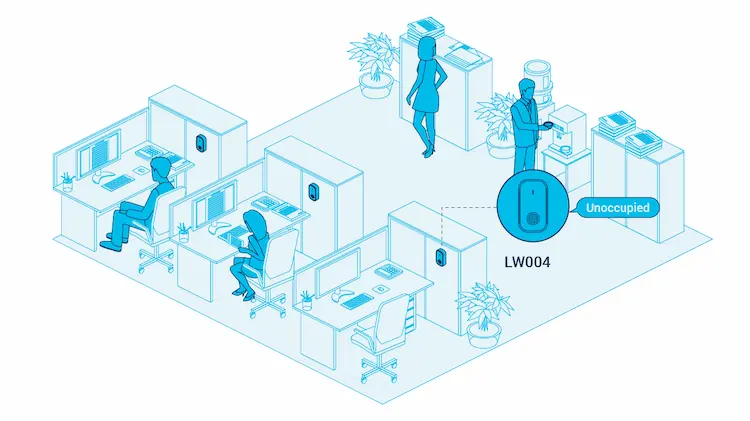 2. Detecting Temperature and Humidity Levels in a Room
In an office sharing setup, the temperature and humidity of the room require monitoring for an efficient working environment. The MOKOLORA's LW002 can detect humidity and temperature in a room and alarm the operator whenever the levels are alarming. It has a long-lasting battery running up to ten years that is compatible with indoor and outdoor environments.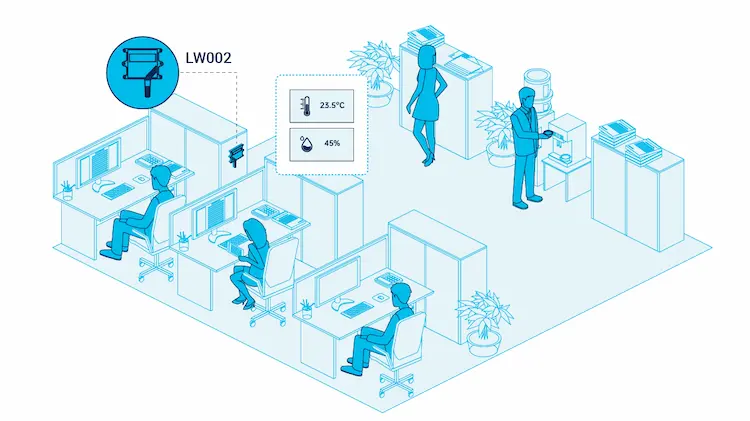 3. Position Monitoring of Personnel in Real-Time
The LoRaWAN Technology Bluetooth Gateway LW003-B can track the activity of personnel in real-time and hence acquire the real-time statistics of the flow of people in a specific place. By monitoring the location of workers in real-time, it can measure their office occupancy time.
4. Desk Cleaning Post COVID-19
Since the COVID-19 pandemic, hygiene has become a priority even in office sharing spaces. LoRaWAN Technology provides users with the availability of an office desk status when booking. With sensitive strips, it can report whether a desk is also cleaned and disinfected.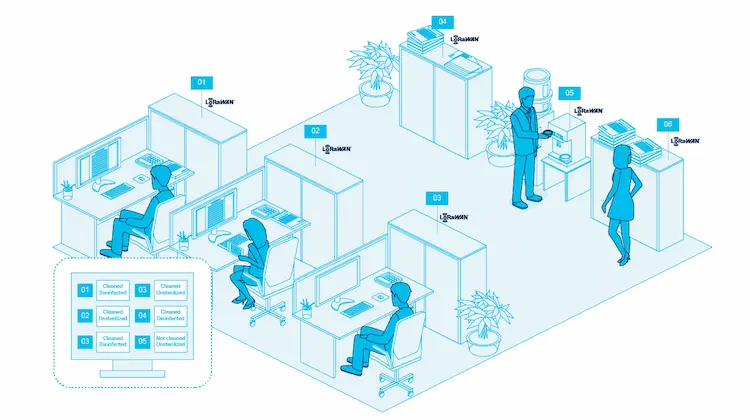 5. Identification Verification
The LW004-CT has been designed for contact tracing. It tracks and records data when an individual wearing a device is close to someone with a similar tracker. It additionally alarms individuals on the social distancing using the signal strength perception.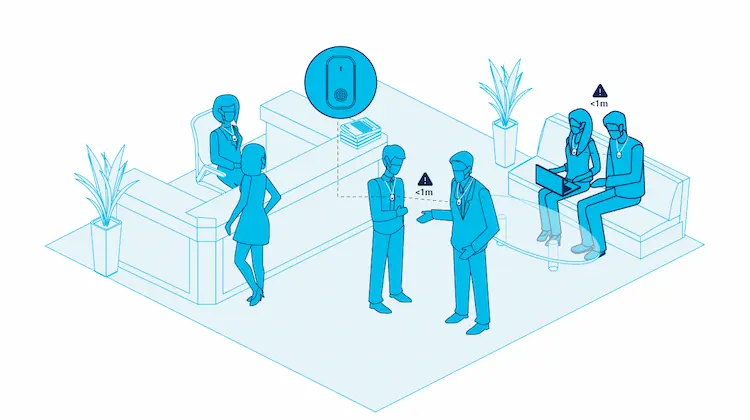 6. Low Energy usage
Our Moko energy monitor is able to monitor the energy usage of all your office appliances and helps you regulate it. Imagine what you could do with lower bills, while also conserving energy for more deserving tasks.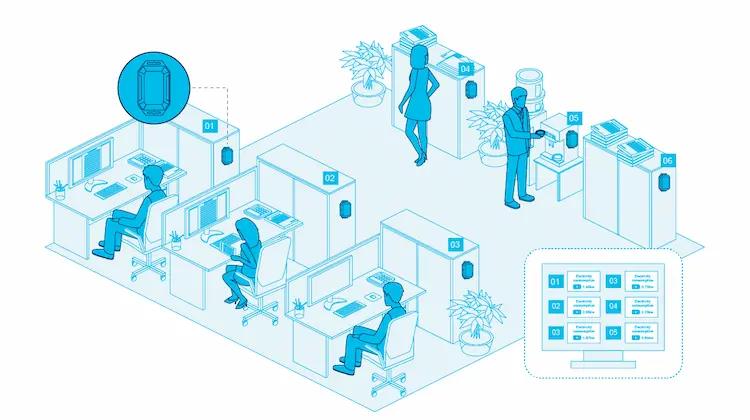 7. Monitoring Location and Booking Conference Rooms
When sharing offices, there tends to be higher traffic in the conference rooms. You don't want to waste time moving up and down trying to get an available room for use. Rather, you want to know when it's available, and be the first one to book it; all from the comfort of your office. Our LoRaWAN Technology contact tracker is efficient in monitoring crowded places and gives you real time updates. Hence, it enables you schedule the time right time to utilize the conference room.
Cost Shared When Using A Shared Office
Office sharing provides individuals with a more dynamic, cheap, and flexible work environment for companies looking for an office outside their homes. One of the upsides of office sharing for small businesses is that it is cost-effective. However, there are a few costs that you may need to share with other business owners in your office sharing setup, depending on your management. Some of these costs include higher office management costs such as cleaning costs and office supplies. In addition, there are setting up expenses, which include dividing the spaces with fake walls, software management costs, and repair of office equipment, among others.