According to The World Bank Group, about 4.2 billion people live in urban areas like cities, which are expected to increase significantly every year. In 2022, there are at least 1.446 billion cars in the world, a higher portion of which move in and out of cities every now and then. And you wonder why it's so difficult to get a free parking spot in your city nowadays. That's why every urban planning and management sector in the world is working towards a permanent technological solution that could ease the hassle of traffic congestion in cities and the scarcity of parking areas. LoRa technology has prove be a viable option offering reliable smart parking solution through the deployment and application of LoRa parking sensor.
Why LoRa parking sensor is needed
LoRa technology introduces smart parking solutions that will eliminate the hassle and tussle for drivers looking for available parking lot, and parking vendors looking to make revenue out of their parking areas. With smart meters installed to calculate parking fees and offer car owners easy, secure & convenient payment methods, there's expected to be a rise in revenue from parking services. Also, each parking lot is installed with smart LoRa parking sensor which enable around-the-clock real-time monitoring and management of the parking space. The sensors collect data about the space including the usage, availability, and violations and send it to a cloud server where parties in need of the data can securely access it. This includes drivers in need of free or paid parking space who will be notified of available parking slots and can reserve them remotely. This reduces the traffic congestion in search for parking space in cities and also increases efficiency and profitability in parking services.
Features of LoRa parking sensor
Features of the MOKOLoRa LoRa parking sensor include:
It's BLE enabled—supports Bluetooth Low Energy transmissions
Has a built-in Li-SOCl2 battery that's ultra-long life
It supports the standard LoRaWAN® (Based CLASS A)
Has an inbuilt Temperature and Humidity sensor (wide range temp of -40℃~+85℃)
High-durability—hardware built to withstand and resist harsh conditions and interference
Straightforward installation, cheap construction and maintenance expenses
Enables real-time monitoring and space occupancy
Top accuracy (98%) is guaranteed since it's backed by an advanced Artificial Intelligence and numerous sensors including the triaxial sensor.
Covered by a robust plastic shell—impeccable IP68 cover and protection
Ultra-low-power usage—the battery can last up to 4 years.
Benefits of LoRa Parking Solution
The LoRa parking sensor comes parked with multiple benefits including:
1. Easy and cheap to install and maintain
Has outstanding features like affordable but durable hardware which requires low to zero maintenance and the ultra-long life battery. Also, it's super easy to install the sensors on your vehicle.
2. Enhances environmental sustainability and saves you money and time
Smart parking systems using IoT help you get the best of both worlds. They help reduce traveling distances by identifying available parking spaces which in turn reduces the amount of fuel the car uses and waste emitted to the environment.
3. Convenience
Smart LoRa parking sensor help reduce traffic congestion as drivers can directly drive to their reserved parking slots without wandering all over, looking for available space. This saves you time and eases your traveling.
4. Increase productivity and Revenue
Businesses offering parking services can allow drivers in need of parking to reserve and access slots any time and make most of their parking area. This way, no available parking spot will be left empty while there's a vehicle in need of space to park. Through the displays and meters installed on their vehicles, car owners can identify and book available parking slots with ease.
application of MOKOSmart LoRa parking sensor
1. Serves as Your Customers' Guide
Smart parking sensor systems are installed more in shopping centers, malls, wholesale and retail shops. They are useful assets to help your customers navigate indoors and outdoors. They guide your customers on where to park their vehicles through an app installed in their gadgets by indicating available parking slots and helping them park safely without hitting objects.
2. Acts as a Data Management system
LoRa parking sensor smart system provides a platform where all parking spaces are connected and monitored in real-time hence acting as a data vault for users to refer to, to better their parking experience.
3. Drive-thru-Click and Collect
Motorists and other pick-up service providers rely on our LoRa parking sensor to show them where to pick up packages and where to pack their vehicles.
4. Access Control
While parking, you need all eyes and senses on deck lest you damage your car or cause an accident. That's why the LoRa parking sensor guide you through your parking by identifying barriers and warning you.
5. Control and Secure
A smart parking IoT controls every inch of the parking area including warning drivers not to park on reserved spots for emergency vehicles like police cars, ambulances, or firefighters. It also shows where not to park to avoid obstructive parking.
6. Population Flow Analysis
A smart parking system using IoT is useful in interpreting commercial activities in a business area using indoor KPIs. This includes counting the population, identifying customer paths, and analyzing customer behavior.
7. Auto/Vehicle Flow Analysis
By interpreting the outdoor key KPIs, a smart parking IoT system can gather and present information on the number of vehicles in the parking area, the flow of vehicles, available working spaces, and more.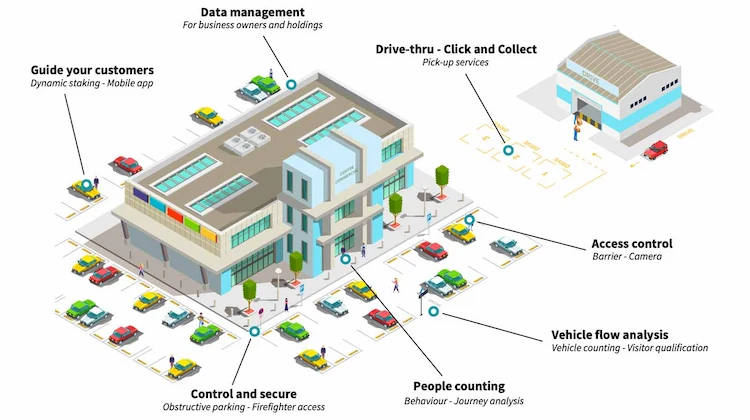 Where can LoRa smart parking be used
LoRa smart parking solutions can be used in the following areas.
1. Cities
2. Public parking garages
3. Hospitals
4. Public areas
5. Hotels
6. Malls
7. Universities
8. Sports centers
9. Private parking lots
10. Hospitals
11. Offices
How do parking sensors work?
MOKOLoRa LoRa parking sensor foster an effective parking environment that enables safe and quick parking that saves money. Here's how it works:
1. Installation and setup: After identifying parking areas and meters that need to be upgraded with smart parking tech, the LoRa-based LoRa parking sensor hardware is then preconfigured, calibrated, and installed.
2. Data collection: The meters and the LoRa Parking Sensor collect information in real-time and send it to a gateway which is then transferred to a central cloud app where users can tap in and access information about parking services in the area.
3. Secure active exploitation: Users have access to a cloud-based application that helps them identify available parking spaces. The smart meters in the parking areas are fitted with LoRa security features to enable them to pay their parking fees using credits cards without fear.
4. Management: Parking space vendors can use data collected by the smart sensors to track payments and occupancy of the slots in real-time. If payments are not made by customers through the meter, they can send someone to issue a parking ticket immediately.
5. Analysis and Conclusions: After some time, experts can analyze data collected by the smart parking IoT system and identify commonly used parking spaces, busy hours, and violation tendencies. This data is then forwarded to relevant authorities for action-taking.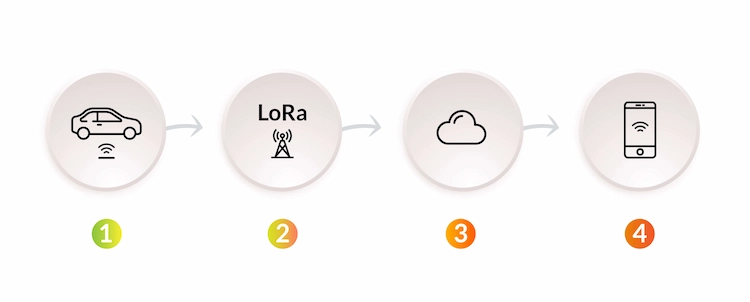 Best practices for LoRaWAN Sensor Deployment
Want to exploit the LoRa tech for your parking business? Here's how to do it right:
i. Conduct a thorough site survey before installing the LoRa-based loRa parking sensor and smart meters.
ii. Test the Received Signal Strength Indicator using an RF end device compare it to test results from a generic tool.
iii. Consider adjusting to the manufacturer's suggested Received Signal Strength Indicator values. See if they suit you.
iv. Diagnose issues and use the manufacturer's manual for DIY troubleshooting.
Use Case
Here are the most common LoRa parking sensor use cases in offering smart parking solutions:
1. Identify Free and Paid Parking Spots
With an app connected to the cloud-based LoRaWAN server, you have access to data on available free and paid parking spaces near you. You can also reserve your favorite parking spot remotely.
2. Smart payment
LoRa tech in smart parking has ensured a secure and efficient way to pay your parking fees using a credit card or your smartphone. You don't have to wait for a ticket. This provides an effective parking payment system.
3. Smart metering
This protects the parking vendors since it tracks all data collected by the parking sensors including if a meter is not paid. The vendors can forward this information to the relevant authorities who are dispatched on the spot to issue the driver a ticket.
4. Real-time smart parking area monitoring
The Lora-based sensors collect real-time data on all activities in the parking spaces and feed it to a cloud-based server where users can securely access, analyze and act on it. This includes the vehicle flow, slot usage, violations, and more.
Factors to consider While Deploying LoRa Smart Parking
Here are the most common factors to consider while installing LoRa-based smart parking solutions:
Gateways positioning and density for effective performance
Surrounding environment—barriers and structures
Size of the antenna
Functionality and abilities of end devices
About MokoLoRa LoRa® Devices and Wireless RF Technology
MOKOLoRa is among the industry's best suppliers of high-end LoRa and LoRaWAN technological solutions. We're offering high-performance LoRa® & RF tech and devices that enable cost-effective, reliable, and secure adoption of IoT solutions.
We have been keeping up with emerging developments in the IoT space and are the leading company in pushing the adoption of LoRa smart parking sensor solutions in smart cities to better the day-to-day lives of people. This is expected to increase city revenue from the parking business as well as enhance the parking experience of many drivers.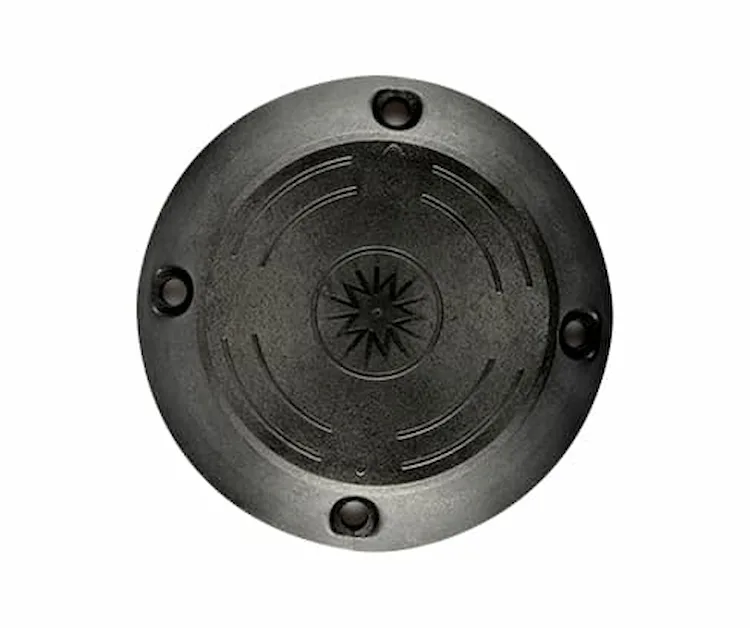 Why choose LoRa technology for smart parking?
Here are reasons why choosing LoRa technology to realize smart parking is a good choice:
1. Ultra-long life battery—Gives you an easy time maintaining it and saves you money because the LoRa sensors can function for up to 4 years without a new battery.
2. Long-range RF signals—This makes the LoRa sensors ideal for places with many buildings and structures like a city. It streamlines RF communication at longer ranges than other wireless technology. The gateways installation is also straightforward, which gives you a seamless experience overall.
3. It's secure—the LoRa smart security system utilizes the AES-128 security encryption which enables a secure end-to-end transfer of data.
4. Excellent performance—LoRa exploits the Adaptive Data Rate tech (ADR) to fully utilize its abilities and capacity to achieve maximum scalability.
5. Doesn't Require GPS—the tracking app can function without GPS
6. Compliance with Internet communication protocols—The LoRa smart parking system complies with the 6 LoWPAN and IPv6 protocols