IoT permeates every aspect of our lives and can be applied to every industry. It is estimated that 75 billion IoT devices will be used by 2025. At present, the most widely used are factories, urban construction and medical management. Transportation industry is also in urgent need of high-tech support as there's tremendous challenges it's facing due to the surging transportation flow. LoRa is a wireless data communication technology with a maximum data transmission of 15 km. It features in long distance, low power consumption, multi-node, low cost and no need for SIM cards. Due to its long distance and efficient management requirements, LoRa has been considered the priority technology for transportation, especially fleet management in recent years. LoRa devices and radio frequency technology enable intelligent supply chain and logistics to easily and affordably track valuable assets on construction sites, including fleet of vehicles. Today we are going to focus on LoRa's application in fleet management. LoRa fleet tracking can track fleet assets in real time, detect road deviation and speeding violations, and more importantly, it can also reduce costs by maintaining better visibility into problems and closely monitoring real-time locations.
Why Transportation is in need of LoRa fleet tracking solution
LoRa fleet tracking solution is suitable for palm plantations, farms and large orchards that are not covered with GSM network. These farms are often far from city centers. Transport vehicles entering these areas cannot be monitored, tracked and managed in real time due to the lack of GSM network coverage. Farm managers have no way of knowing whether drivers are stealing fuel, loading goods at designated locations or engaging in illegal activities during transportation. Hence, MokoLoRa developed a LoRa transportation system to help customers work out data communication problems in remote areas, especially where not covered with GSM network.
LoRa gateways and sensors are an affordable way to track and manage all information generated by multiple mobile assets. The high throughput of the cloud-based software platform ensures easier management of fleet and equipment, the historical and real-time location tracking makes a great contribution on this solution.
What's LoRa fleet tracking solution
The tracking platform can load detailed farm maps so that farm managers can pinpoint the location of transport vehicles on the farm. The platform supports alarm of driving route deviation, allowing users to monitor the driving route of vehicles. If the driver does not follow the preset route, an alarm will be triggered. Route statistics report, fuel statistics report, travel statistics report, race statistics report, start and finish statistics report can also be included in this solution.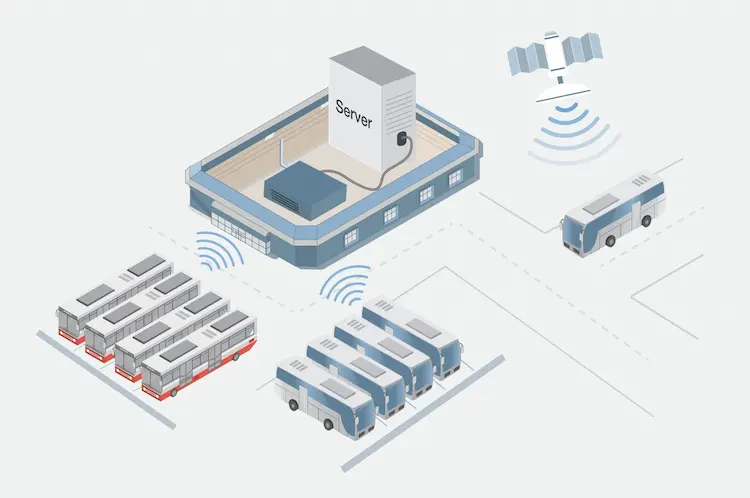 How to use manage your fleet tracking with LoRa
There are GPS Sensor, vibration sensor, peed sensor, temperature sensor and SOS button involved in LoRa fleet tracking. You can see it be used in the following application:
Equipment installed on company assets, such as trolleys, cranes, tractors, forklifts, and other important dynamic assets can be tracked and shared in real time for location and status.
Either the temperature of the engine or the whole car is detected by a temperature tracker, which triggers a sensor alarm if the temperature gets too high. Speed sensors could help company executives notice if drivers are speeding or slowing down extraordinarily.
If the LoRa sensor detects any sharp braking or collisions for a long time,the alarm will be triggered. This way can help regulate the behaviour of drivers and inform managers to check whether the driver is in trouble.
LoRa fleet tracking solution also monitor the drivers' attendance remotely, preventing drivers from engaging in unauthorized or illegal operations after work.
'idling alerts' and 'Geo-fencing alerts' are two significant functions, allowing farm managers to learn how drivers are working and check for illegal transport.
The efficiency of delivery can be obtained by recording the departure and arrival times of drivers.
The location of each vehicle can be seen in the background, allowing for rational assignment and optimal route planning for drivers.
Drivers wear badges with an emergency alarm system, which allows them to call for help in case of an emergency.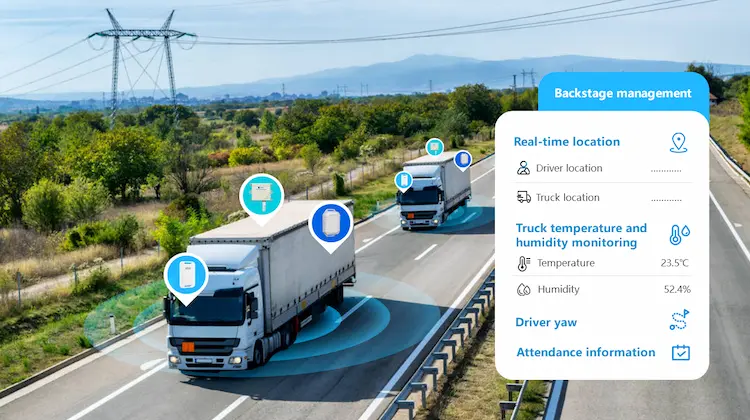 How can you benefit from LoRa fleet tracking solution?
Reduce maintenance cost
By tracking the assets in real time can avoid severe accident, it reduces the cost of equipment obsolescence and major maintenance
Whole insight in asset owned
Long-term maintenance tracking of assets can make better purchasing decisions when repairs or replacements are needed and managers can use this data to make more informed decisions about corporate assets
Improve working efficiency
All data, including temperature and humidity, speed, location information and battery charging status, will be collected in the cloud. Employees no longer need to go to the site for investigation. By managing the data through computer or other mobile devices can save a lot of labor and improve work efficiency.
Enhance customer experience
Fleet management ensures timeliness and accuracy, employees are no longer negligent due to the powerful platform. As a result, customers' experience is better than ever before.
How does fleet management work?
LoRa technology from MOKOLoRa enables cost savings and analytic for real-time connection monitoring. Our LoRa fleet tracking management system architecture consists of three hardware components: sensor, gateways and servers.
Sensors read GPS signals from satellites and send one packet per second. The gateway receives the packet from the sensor and forwards the packet to the server. Figure below shows a diagram describing system operations and data flows. The main role is the sensor, which sends a GPS packet to the gateway every minute. The gateway then forwards the packet over an Internet connection to the server, where it is saved as an SQL record. The client can view the data record in real time through a table or graph.
MOKOLoRa LoRa fleet tracking management solution
MOKOLoRa is a major provider of global positioning systems and other location-aware electronics and communications solutions. Over the past decade, we have delivered wearable tracking devices, GPS engine boards/modules and GPS receivers, and GPS tracking systems. We have expanded our product line into various markets, including healthcare and other loT industries. Electronic design, systems integration and software development are provided to meet the specific needs of our customers. We work with other LoRa alliance members to provide customized integration, including other applications, supply chain and logistics.
You can source sensors and gateways from MOKOLoRa and then install them on where you want to manage them, usually within 5 to 10 miles of an open area. Our equipment can track in real time all assets in use on the entire large plant site. Fleet assets and individual components that can be tracked during assembly to ensure they are segmented correctly and in a timely manner. And cloud-based software is configured for collecting asset data so that users can track it. The information is stored for the long term, processed by cloud-based software providers and accessed via the web, mobile devices, desktops and tablets. As time goes, the data can be analyzed to track the most commonly used assets and reduce operating costs through improved LoRa fleet tracking management.
LoRa is just one of the IoT technologies applied to our fleet management. As the industry's leading one-stop LoRa fleet tracking solution provider, we have many more services that can surprise you. Our sensors and gateways can be used not only for fleet management, but also for many other applications. If you are interested in our solution or have anything to know, then feel free to contact us.