LoRa brings tremendous changes to the IoT world as it breaks the balance between transmission distance and power consumption. The new wireless communication technology is applicable for its long distance, low power consumption, large system capacity, and low hardware cost, which is exactly what the IoT needs. However, there are a wide variety of LoRa modules available. How should we make a choice among so many LoRa module suppliers? Do not worry. In this tutorial, we've selected ten of the best LoRa Module manufacturers for your reference, as well as what to consider when selecting a LoRa module provider for your business.
An overview of the LoRaWAN LoRa module
It is well-known that LoRa is a kind of long-distance wireless communication scheme based on spread spectrum technology. Pretty much people are wondering what is a LoRa module. To simply put, it is a device that provides wireless connectivity through the LoRaWAN protocol. LoRa module is a critical component of an effective LoRa IoT solution. The rapid adoption of LoRa technology in various industries has driven the growth of LoRa modules. The global LoRaWAN LoRa module market is expected to witness a CAGR of 36.5% from 2021 to 2027.
Currently, LoRa modules are playing an active role in smart IoT applications, including smart agriculture, smart city, home automation, industrial automation, asset tracking, and more. The increasing penetration of LoRa modules in the Internet of Things highlights the advantages of LoRa technology. Moreover, we are optimistic to see the strong potential of LoRa wireless communication modules in more applications.
Five criteria for choosing a LoRa module manufacturer
There are a lot of different LoRa module vendors out there, so you need to make sure you are selecting a reliable and flexible one for satisfying your business needs. Otherwise, you may end up with an unfeasible solution that is not well suited to your business or does not work as well as expected. The following are five important criteria to consider when searching for a proper LoRa module manufacturer.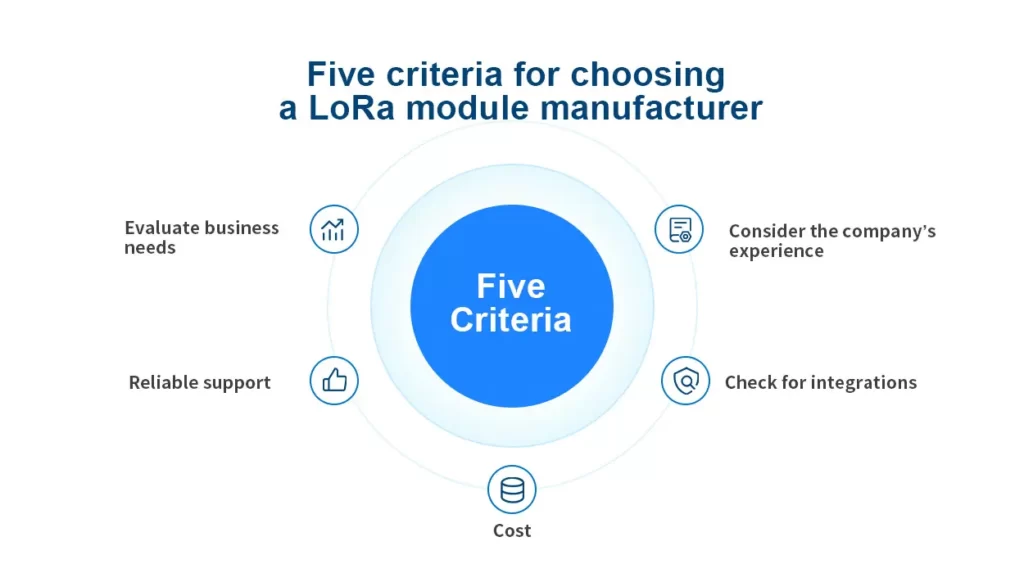 Evaluate business needs. When it comes to selecting a LoRa module manufacturer, it's important to evaluate and understand your business needs first. So, how do you go about understanding your business needs? There are some factors you can take into account, including operating environment, transmission range, power consumption, frequency band, package size, and more.
Reliable support. Reliable customer support is essential if you encounter any problems. So it's imperative to consider the level of support that the LoRa module supplier could offer. Ensure that a reliable supplier is selected to provide after-sales service.
Check for integrations. A LoRa solution often involves different LoRa devices that come from different suppliers. It's crucial to consider whether these smart LoRa devices can integrate well with each other. Before making a decision, make sure that the LoRa module you choose is well integrated with your LoRa solution.
Cost. Budget is another important factor that cannot be ignored. There are numerous LoRa end nodes when deploying a LoRa solution. Therefore, a considerable number of LoRa modules are typically involved. You should compare apples to apples to choose a cost-effective LoRa module provider.
Consider the company's experience. Last but certainly not least, you should take the LoRa module provider's experience into consideration. It's necessary to inquire about the vendor's past projects and clients to understand their track record. More importantly, you should consult the supplier's team to ensure that they have the necessary expertise and reliable manufacturing process.
10 key LoRa module manufacturers you should know about
Given how quickly the LoRa landscape has evolved over the past few years, there is no surprise the LoRa hardware industry has also come a long way. Since we don't want to overwhelm you, here are the top ten LoRa module platforms you should know about. Note that the names listed below are all members of the LoRa Alliance. Let us begin with Semtech, the world-renowned LoRa module manufacturer.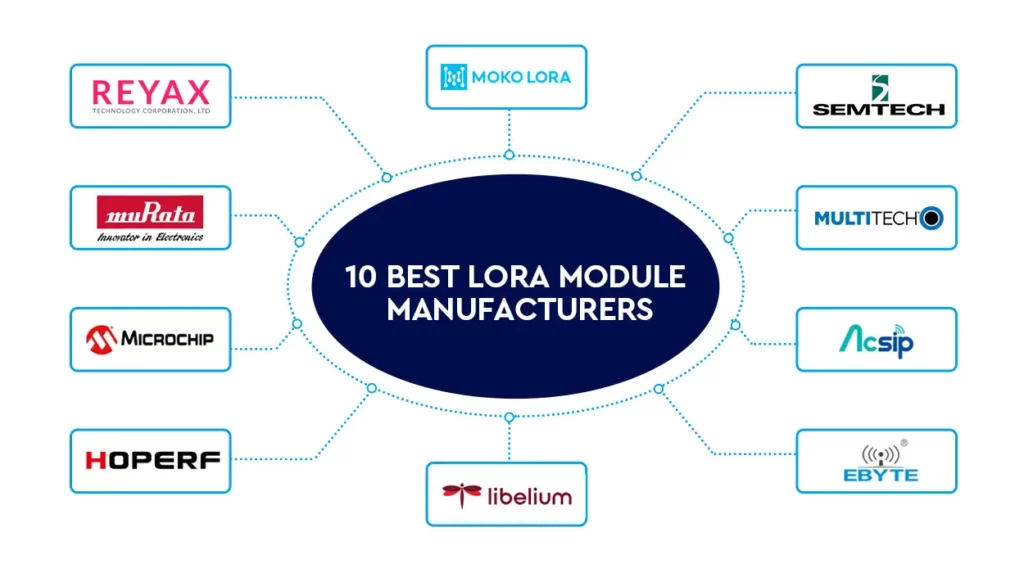 Semtech Corporation
Semtech Corporation is a global leading semiconductor supplier of high-performance analog and mixed-signal and advanced algorithms. With patented long-distance low-power wireless LoRa technology, Semtech's LoRa wireless technology has certain advantages in low power wide area (LPWA) technology and is widely used around the world. After acquiring the French Cycleo company in 2012, Semtech led the establishment of the Lora Alliance three years later.
As the only semiconductor supplier that provides a complete LoRaWAN solution, Semtech offers various flexible, efficient and economic solutions to address real-world problems in indoor conditions or rural areas. Its LoRa solutions enable numerous applications in many sectors including supply chain and logistics, smart agriculture, utilities, home automation, industrial controls, smart cities, smart buildings, healthcare, and more.
Murata Manufacturing
Murata, Japan, is a world-renowned manufacturer of electronic components. The company has a leading position in the design and production of ceramic electronic passive components, wireless connectivity modules, and power conversion technology. Since its inception in Kyoto in 1944, Murata has made great contributions to the advancement of society and the development of the electronics industry.
Murata is now a multinational company with over 100 offices around the world. It has cooperated with STMicro and Semtech to produce low-cost and reliable LoRaWAN modules that support various sensors and remote wireless protocols. Guided by the slogan "Innovator in Electronics", all employees are dedicated to developing promising new technologies, world-leading innovation projects and products that will shape the future of the electronics industry to meet the diverse needs of customers.
MOKOLoRa
MOKOLoRa is one unit from MoKOSmart, a China-leading innovative manufacturer specializing in the development, production and manufacturing of IoT smart devices. The company offers an all-inclusive collection of LoRaWAN hardware products such as LoRaWAN gateways, LoRaWAN modules, and LoRaWAN End-nodes. With a first-class R&D team and modern R&D equipment, the company provides reliable electronic manufacturing and ultimate support to global customers.
MOKO's LoRa modules are fully validated to operate in many regions of the world. The MKL62BA supports ultra-low power consumption using the LoRa radio link and local BLE connections. MKL110BC involves Bluetooth positioning, LP-GPS, and WiFi positioning. Due to its scalability, reliability, and feasibility, MOKO LoRa modules are ideal for a variety of remote wireless monitoring and control. MOKO has been widely recognized by the industry at home and abroad.
Reyax
With more than 10 years of experience in the wireless and IoT industries, Reyax is a leading total solution provider of wireless modules, engineering and supply chain services to electronic manufacturers. Since its establishment in 2008 till today, its production line has diversified into LoRa, WiFi, RFID, Bluetooth, etc.
As a wireless communication solution provider, Reyax specializes in the development and sales of various high-quality and reliable industrial modules. The company is deeply involved in industrial electronics, medical electronics, security monitoring, Internet of Things, audio and other markets. The Reyax LoRa module is welcomed around the world.
HopeRF
Founded in 1998, HopeRF is a Chinese high-tech enterprise focusing on the field of wireless radio frequency and sensors. After years of unremitting efforts, it has now developed into a domestic company with a complete industrial chain integrating ASIC chip design, MEMS sensor chip design, packaging, testing and calibration technology, and application services.
At present, HopeRF MicroElectronics can provide a variety of low-cost and reliable bidirectional transceiver modules, such as RFM95W/95PW, RFM96W, RFM98W/98PW, etc. The operating frequency band of HopeRF LoRa modules can support from 433 to 915MHz. All modules support SPI interface, and complete sets of LoRaWAN products will be available soon to provide even greater support for industry customers and related application solutions.
AcSiP
As the name suggests, AcSiP is focused on developing "Advanced Communication System in Package" technologies and services. The company has gained extensive experience in wireless communications and various applications since 2009. With this knowledge and valuable experience, the company can offer a range of wireless connectivity solutions.
In May 2018, AcSiP has expanded its current solutions to leverage Semtech's LoRa technology and the open LoRaWAN standard. It has successfully deployed a GPS solution with LoRa technology in its two SiP modules, the S76G and S78G, which have gained considerable customer interest and adoption. The AcSiP LoRa module is ideal for IoT tracking solutions for monitoring assets, including cargo and vehicles.
Ebyte
Founded in 2012, Ebyte is a Chinese high-tech enterprise focusing on wireless data transmission and communication applications. The company devotes itself to the R&D and production of various wireless modules and industrial IoT terminals. With strong R&D technical strength and perfect after-sales system, it provides customers with complete solutions and technical support. The company's self-developed multi-band wireless data transmission modules such as LoRa, WiFi, Bluetooth, ZigBee, and 2.4G have been highly recognized by customers.
Libelium
Libelium is a well-known Internet of Things technology company in Spain, located in the industrial city of Zaragoza, Spain. Founded in 2006, the company has become a professional IoT technology company integrating R&D, production and sales, and is committed to solving various society problems through wireless sensor technology. Its R&D and production sector are located in Spain, with customers in hundreds of countries around the world.
The Libelium LoRa module is appliable in virtually any country. Leveraging different protocols and frequencies, Waspmote, Libelium's open-source wireless sensor platform, enables long-range (up to 12 km) communication while maintaining low power consumption for smart cities, smart environments, smart water, smart metering, security and emergency, retail, logistics, industrial control, smart agriculture, smart livestock, home automation, and e-health.
Multitech
Since its establishment in 2002, Multitech has been dedicated to providing leading technical solutions and products. As a world-class IoT technology service provider, it offers customers easy-to-deploy solutions, customized services, and diversified manufacturing and supply chain options. Multitech LoRa modules are secure, and regulatory-certified. The low-power RF modules are LoRaWAN compliant and provide bi-directional data communication up to 10 miles line-of-sight and 2-3 miles in buildings. It is a well-known enterprise in the LPWA industry, and its end-to-end IoT solutions have attracted many customers around the world.
Microchip Technology
Microchip is a leading American supplier of microcontroller, mixed-signal, analog and Flash-IP integrated circuits. The company engages in the design, development and manufacture of semiconductor products for various embedded control applications. Currently, these chips are widely applied in the a number of key markets such as automotive, industrial, computing, consumer, and so on.
As a founding member of the LoRa Alliance, Microchip is at the leading edge of this long-range low-power IoT technology. The company offers stand-alone and programmable LoRa modules for ease of use and faster time to market. In addition, it provides a one-stop LoRaWAN solution with strong technical support, reliable products and superior quality.
FAQs about LoRaWAN LoRa module
What are the prices of LoRa module?
The price of different modules varies. Usually, the price of a communication module is around $15, and the price of an RF module is around $10.
What frequency does LoRa module support?
The frequency band is selected for the rational use of spectrum resources and to ensure that they will not interfere with each other when using spectrum resources. LoRa has different frequency bands in different countries and regions. Note that a module can support multiple frequency bands, but not necessarily all frequency bands.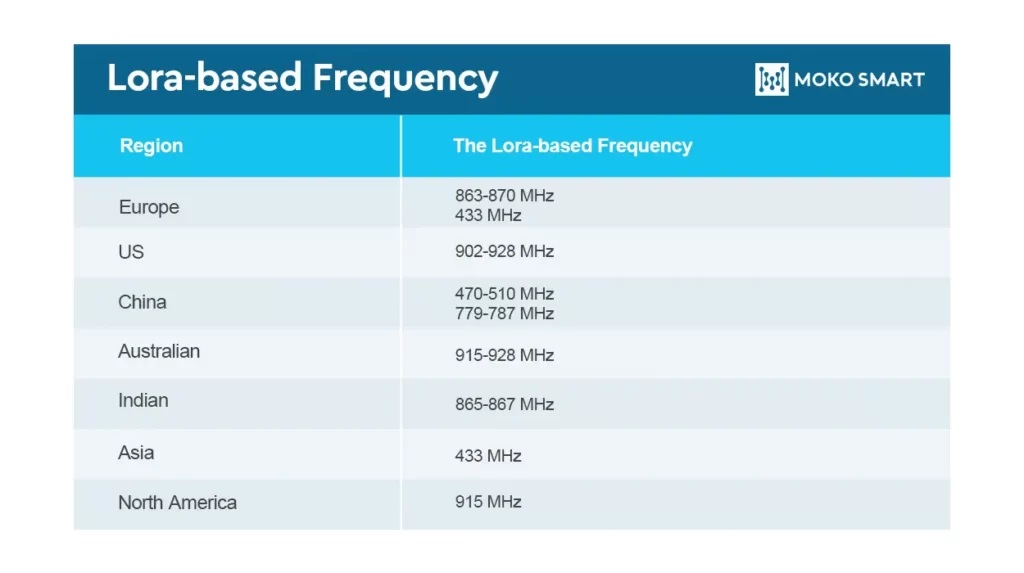 Which LoRa module is the best?
It depends on your specific business needs. You shall take some necessary factors about LoRa module manufacturers into consideration, then compare apples to apples and find a feasible and economical solution that fits your needs.