With the adoption of new IoT solutions across a wide range of industries and applications, IoT solutions have become a necessity to improve operational efficiency and enhance data security. LoRa devices and the LoRaWAN protocol continue to be in focus as more technical teams review available IoT platforms and their capabilities. LoRa and LoRaWAN devices have quickly become the primary choice for implementing long-range and low-power IoT applications. In this blog, we will explore different LoRaWAN devices class and take a look at the best LoRaWAN devices in MOKOLoRa. By understanding what LoRaWAN devices are, you will be in a much better position to choose the best LoRaWAN devices for your IoT project.
What are LoRaWAN devices in IoT
An entire LoRaWAN ecosystem consists of four different parts: end nodes, gateway, LoRaWAN server, and application server. LoRaWAN devices generally refer to the smart end devices, modules, and gateways. In the LoRaWAN IoT network, the terminal devices are connected with the gateway through LoRa wireless communication, the gateway is connected to the network server via an existing wired or wireless network (Ethernet/cellular), which in turn connects to the application server via Ethernet.
Gateways are also referred to as concentrators or base stations; terminal devices are called end nodes or sensors. Despite that the primary mode of transmission is upstream from the terminal to the web server, all transmissions are usually bidirectional. With the advantage of LoRa's long-distance coverage, LoRaWAN adopts a star wireless topology, which effectively extends battery life, reduces network complexity, and allows for easy capacity expansion. The LoRa and LoRaWAN devices market is estimated to reach $6.2 billion by 2026 with a CAGR of 36.5%. With the expansion of the LoRaWAN network, the prospect of LoRa and LoRaWAN devices is considerable.
An introduction to LoRaWAN device classes
End devices for different applications have different requirements. The LoRaWAN protocol is optimized for sensors of different applications and divided into different levels of terminal types (Class A/B/C) to achieve an optimal balance between network latency and battery life. From A to C, the performance is higher and higher, and the functions are more comprehensive, but the energy consumption is higher. A is the basic type, B and C are the extended types. All LoRaWAN terminals must meet Class A regulations.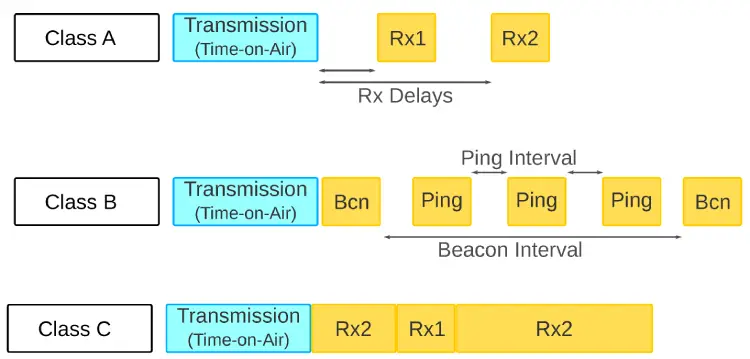 Class A: Devices that allow two-way communication between the device nodes and the gateway. After the uplink data transmission of the terminal node is completed, there will be two downlink receiving windows with relatively short time. Class A terminals are the lowest power devices of the three types of terminals.
Class B: Based on the communication form compatible with Class A devices, Class B terminals can open a receiving window at a predetermined time to receive messages from the server. Since such devices need to open the receiving window at a predetermined time, these devices need to receive a beacon for time synchronization from the LoRaWAN gateway to determine whether they are still online.
Class C: This type of devices keep continuous interaction with the gateway, and the receiving window is always open. The power consumption of this type of terminal device is higher than that of the first two classes, but the communication delay is the lowest among the three types of devices due to the fact that the receiving window is always open.
What are the benefits of LoRa and LoRaWAN devices
LoRaWAN devices come with numerous benefits, and these benefits make them stand out from various IoT devices. By deploying cost-effective and versatile LoRaWAN devices, you can boost the efficiency of LoRaWAN networks. Below we have outlined the benefits of the best LoRaWAN devices.
A wide coverage range.In open areas, devices are able to communicate with gateways up to 15 km away and up to 5 km in cities, meaning a single gateway can cover all devices in a wide coverage range.
Low cost. The price of LoRaWAN sensors and gateway devices is relatively low, and the low power consumption greatly reduces maintenance and operational costs.
Long-lasting battery life. You will find excellent performance in the battery life of all LoRaWAN devices. Frequent battery replacement can be troublesome, and all IoT devices are searching for ways to avoid the problem. The operational life of LoRaWN sensors can last up to ten years
Easy deployment. The open standards supported by LoRaWAN devices enable them to be quickly networked and deployed, whether for industrial or commercial business uses.
A few use cases of LoRa and LoRaWAN devices
As LoRaWAN continues to expand, more and more industries are searching for ways to integrate it into their applications. There are a variety of implementations for deploying the best LoRaWAN devices, including: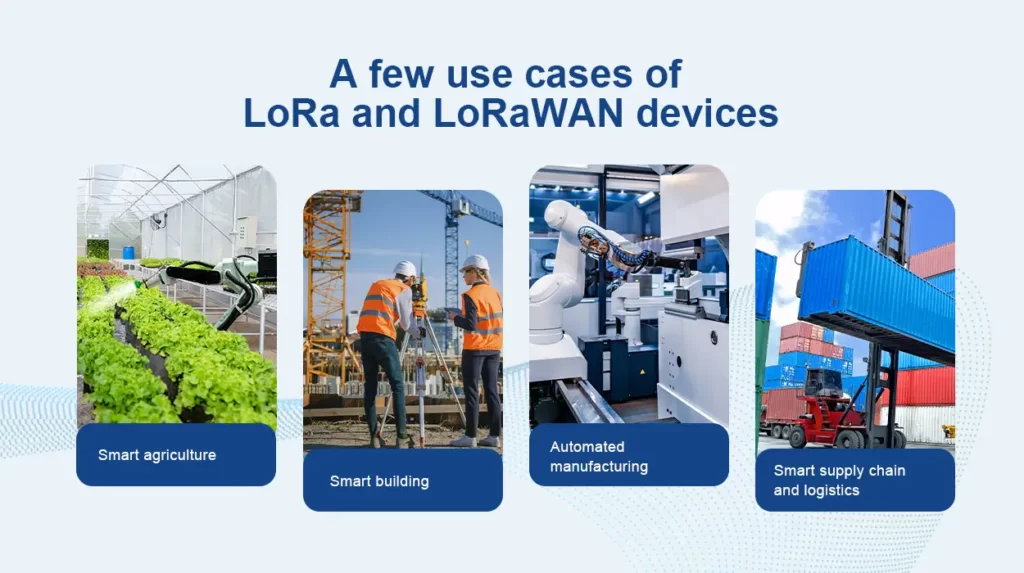 Smart sensors with low power consumption and low cost are urgently needed for agriculture. The application of temperature and humidity, carbon dioxide, salinity and other sensors is of great significance for agriculture to increase production and reduce water consumption, and these data indicators will not change obviously in a short period of time. Therefore, LoRaWAN is undoubtedly the best choice because of the small amount of data and the low real-time requirements.
Smart building
Sensors such as temperature and humidity, harmful gases, and water flow monitoring are critical to building renovations. Regularly uploading of relevant monitoring information not only facilitates the supervision of managers but is also convenient for users. Generally speaking, the communication of these sensors does not need to be very frequent or ensure an excellent service, and a portable smart gateway can meet the demand. All make LoRaWAN devices a more suitable choice for this scenario.
Various smart technologies are adopted in automated industrial production, leading to the convergence of a large amount of information data in the network. Therefore, the feature of the selected network and devices has a direct impact on the execution quality of the production plan. Some scenarios require low-cost and long-life batteries to monitor track devices and monitor status, and LoRaWAN is an ideal choice.
Smart supply chain and logistics
The logistics industry often involves a very broad geographical scope, so the primary consideration is low investment and long operational life when it comes to selecting a network. In order to track and determine the location and status of goods, freight companies should put facilities involved in the entire logistics under network coverage. This means that the end devices should be economical enough to be deployed at scale. The feasibility and flexibility of LoRaWAN make it an optimal choice.
Best LoRaWAN devices examples in MOKOLoRa
LoRaWAN devices are excellent choices for a variety of applications. If you are looking for the best LoRaWAN devices list, you have come to the right place. Below, we will show you some of the most popular LoRaWAN devices in MOKOLoRa.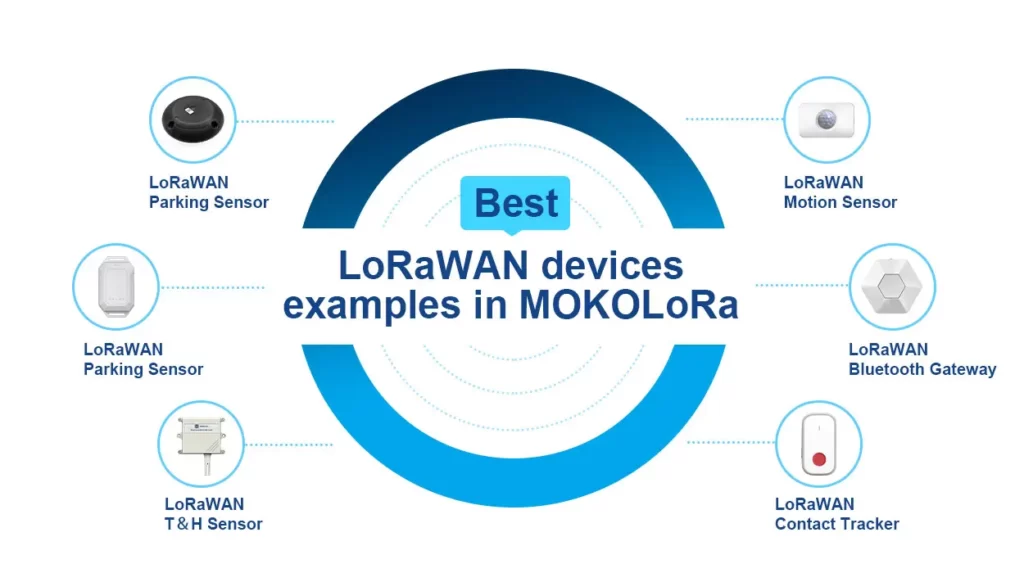 LoRaWAN parking device
The smart vehicle detection sensor integrates microwave radar and geomagnetic detection technology for precise parking occupancy detection. There are two installation types for you to choose from, in-ground installation or surface mount installation.
LoRaWAN tracking device
The LoRaWAN GPS Tracker is designed for both indoor and outdoor use cases, including livestock tracking, asset tracking, personnel tracking, etc. With it, you can also set geofences so that you will be alerted if the tracked object leaves a certain area.
LoRaWAN T&H sensor
It is widely used to collect temperature and humidity data from the ambient. This sensor is battery-operated and can withstand harsh environments. Its operational life can last up to 10 years.
LoRaWAN motion sensor
The versatile LW007-PIR sensor can be adopted for PIR presence detection, door magnetic induction, as well we temperature and humidity monitoring.
LoRaWAN bluetooth gateway
The LoRaWAN device integrates LoRaWAN and Bluetooth wireless communication, which acts as a bridge between the Bluetooth beacons and the LoRaWAN gateway. It is ideal for indoor positioning and environment monitoring.
LoRaWAN contact tracker
The LoRaWAN contact tracker is an IoT device that uses the LoRaWAN protocol for contact tracing. This plays an important role in keeping proper social distance in times of pandemic. It can also be used as a panic button to send an emergency signal, which is a great way to ensure the safety of seniors.
The best LoRaWAN devices are those that offer the best battery life, security, and range. Of course, there are a few other companies that have been working on LoRaWAN technology and devices for a long time, and they have some of the best LoRaWAN devices in the market. You can compare apples to apples, and make the best choice that suits your needs.
LoRaWAN devices are ideal for IoT Transformation
The application of IoT solutions can improve operational efficiency and simplify processes, but the associated configuration and long-term maintenance costs should be considered. That's why businesses are rapidly adopting LoRaWAN and LoRa IoT devices. With so many connection options, it's imperative to choose the right technology to maintain a secure and reliable connection between the devices and the server. Just as important is to adopt an IoT solution that is scalable with the constant change and development of technology.