IoT in education: Hype or necessity?
The development of the Internet of Things has been widely used throughout the industrial and agricultural sectors, and the education industry is no exception. The difference, however, is that no other industry bears the same burden of shaping the minds of the next generation as the education sector. In any case, the fact is that the IoT is making its way into schools.
As the world marching toward advanced technologies, the way of life around us has been changing dramatically. It feels like just yesterday that IoT is still a much-touted futuristic technology that was going to upturn the way we live – and now that we're witnessing IoT technology creep into our lives in various forms, and well, this list is continuously going on.
What Does IoT Mean?
IoT, or the Internet of Things, refers to a complex wireless network made up of connected physical devices, all of which are embedded with sensors, software, and other technologies to achieve interconnection and data sharing with one another over the internet.
Pretty much any physical object can be converted into an IoT device if it can connect to the internet for capturing and processing data. These devices can range from biochips to cell phones, to sensors, and even to a huge system that monitors their interconnections with each other. Everything, as long as it is physical and is able to extend its quality to a virtual network, is part of the Internet of Things.
IoT and Education
IoT and education – two words that not many would put in the same sentence, but it turns out that IoT is actually expanding into the education sector practically and their integration are strengthening.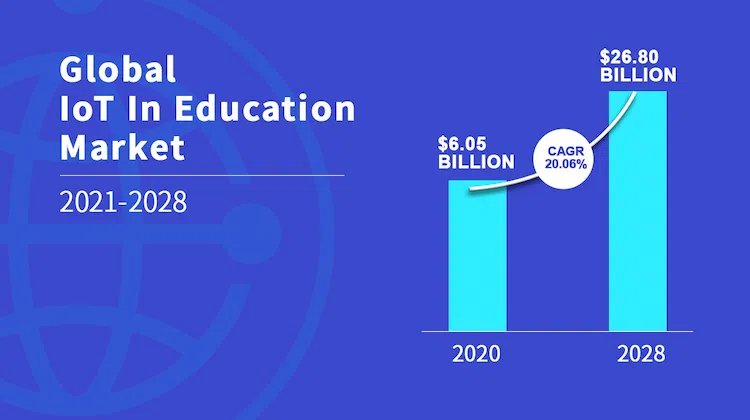 According to Verified Market Research, the estimated market size of IoT in education was valued at $6.05 billion in 2020 and is predicted to reach $26.8 billion by 2028, increasing a CAGR by 20.06%. Based on this upward trend, it is very much expected to see how IoT technology will be integrated into the education field. Right from improving class attendance to ensuring campus security, the Internet of Things not only enhances the education itself but also provides advanced value for the improvement of the education structure and its environment.
Implementations of IoT in education sector
IoT in education emerges in various forms and serves general and specific purposes, for both students and teachers. At present, it plays a vital role in shifting the traditional education system. There is no doubt that IoT has a wide range of implementations in the education industry. Following are some of the practical applications of IoT trends in the education domain.
Attendance monitoring
When it comes to the utilization of IoT technology, the attendance monitoring system may come to the list first because of its importance. Attendance data will be automatically recorded by the LoRaWAN motion sensor. The smart sensors can detect empty desks and then identify whether a student is present in the class or not. As a result, teachers can get away from this daunting task and inform the absence of the students to their parents in time. The same feature is also suitable for the attendance and lecture counting of teachers and school staff.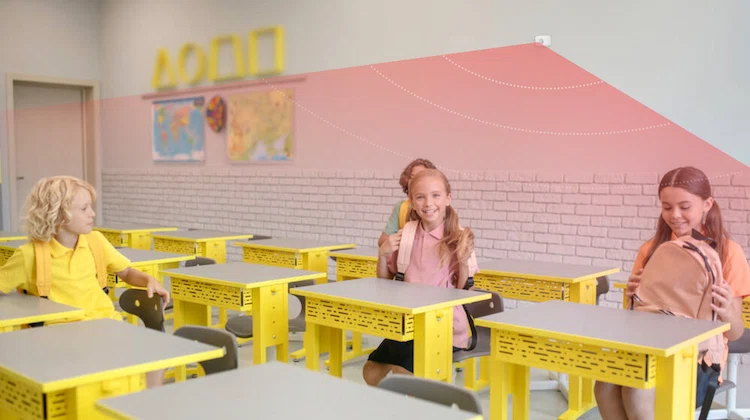 Smartboards
Gone are the days when teachers used small chalk writing and drew arduously on the simple blackboard. Nowadays, students prefer smart whiteboards, which can project images of the subject or move around the classroom as needed. With its interactive and multimedia teaching features, the exchange of information between the students and teachers attaches vividness and interest.
In addition, it's common to see such incorporation of digital smart devices and traditional teaching method. Both teachers and students will be greatly benefited from those innovative technologies. What is clear is that there is no immediate transition to the evolving methodologies, but rather a slow and gradual update.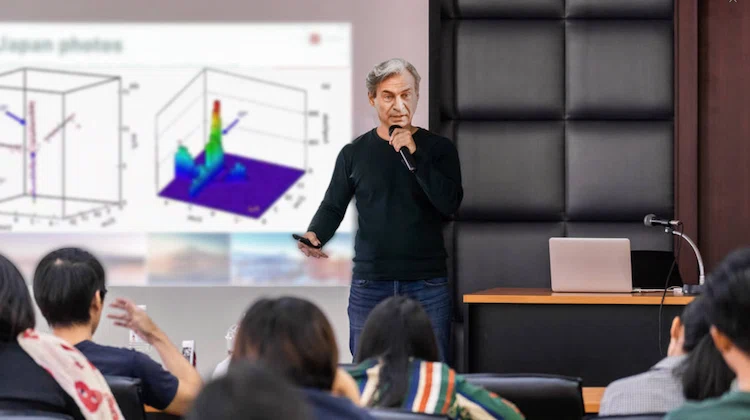 Energy Management
One of the major concerns of schools is to cut the school budget as much as possible. Therefore, energy management is another excellent example of IoT application in the education sector. While some schools have been intermittently closed due to the coronavirus over the past few years, it's still necessary to maintain the daily operations of campuses. Through the IoT ecosystem, energy and water usage can be controlled and monitored by LoRaWAN meter plug, thus establishing healthy teaching and learning atmosphere.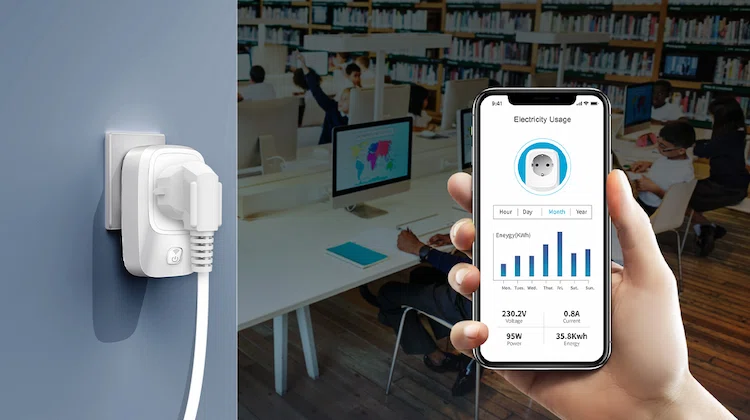 Safety in campus
If you want to consider the advantages of deploying IoT in education, enhancing campus security can't be ignored. With the help of LoRaWAN sensors, signs of emergency or danger can be detected and thus giving enough time to resolve the issue. In the event of any intrusion or accident, the smart sensors could detect it immediately and send out an instant alert to reverse the situation. The deployment not just ensures security, but also relieves the pressure on management systems that have to face such problems occasionally.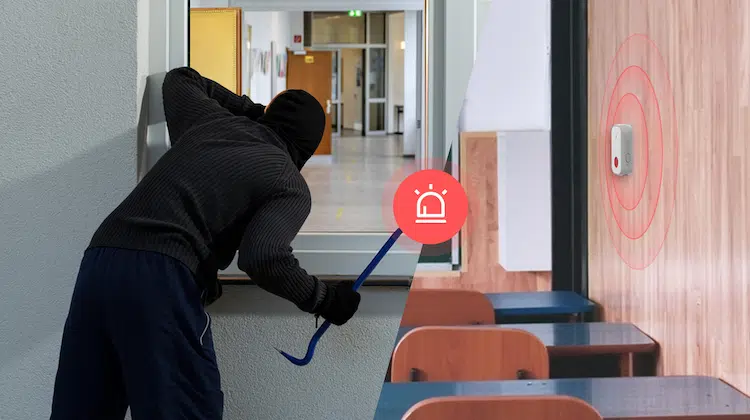 Timely alert
By sending notification with beacon to one's phones improve the accessibility of information. Students can receive the class reschedule notification and homework assignment from teachers. In addition,once there's emergency alert, can be informed immediately and decrease the risk.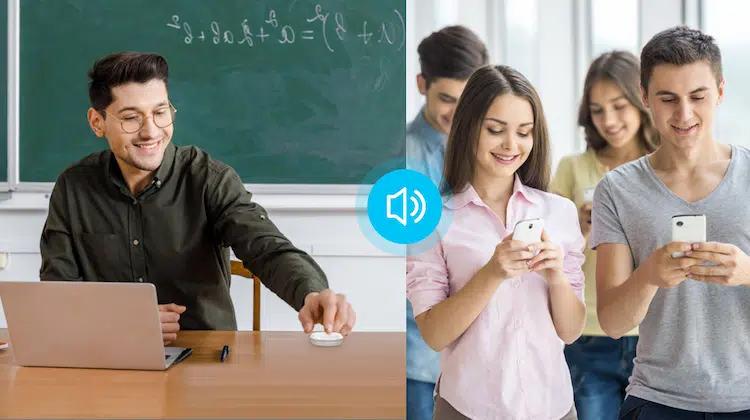 Contact tracing
People have been prepared to live with the virus for a long time. LoRaWAN contact tracing Solution was mostly used in schools and other public places to regulate the safe social distance between students and teachers. In addition, IoT's powerful tracking capability also makes it possible to track the transmission chain, which greatly restrains the spread of the transmission chain.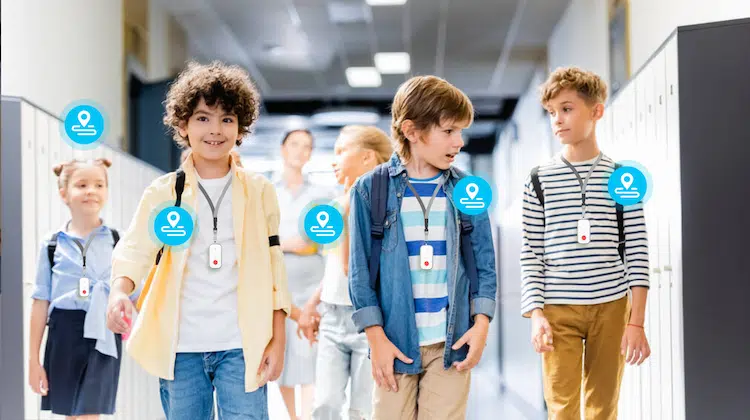 Comfortable environment
Nowadays many classrooms are equipped with temperature and humidity sensors, which can monitor indoor temperature and humidity. The connected intelligent socket can adjust the temperature and humidity to create a comfortable learning environment.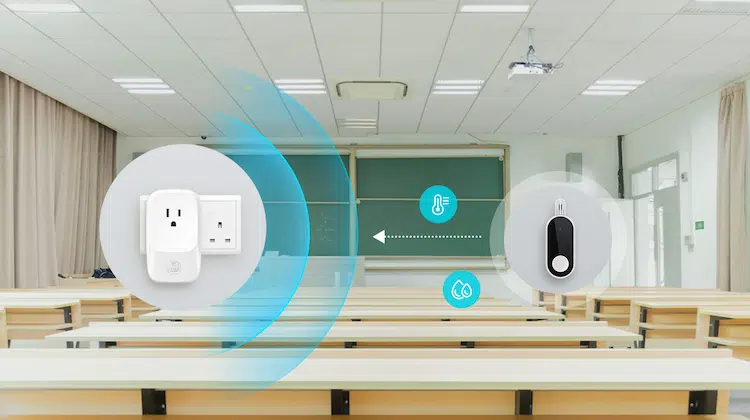 What are the benefits of IoT in education
The utilization of IoT in education can prove to be a powerful option with visible benefits in multiple aspects of the school. In the following part, we'll explore some of the top benefits of integrating IoT into educational environments.
Advanced school management: IoT devices for education can be utilized effectively in school settings, including managing funds, tracking supplies, reducing operating costs, rescuing water and electricity consumption, and more.
Increased student engagement: The IoT is helping build efficient and fascinating classes by connecting students' feedback. With the help of IoT devices, traditional teaching methods are evolving into modern digital courses, through which the students can get more involved in the class.
Boosting the learning experience of students: IoT technologies enable students with special needs to enjoy an inclusive learning environment. For example, with voice assistants, visually impaired students can get audio content, and hearing impaired students obtain a converted text.
Enhanced security: The safety and security of students is always the top priority for all schools. With the application of IoT security devices such as video-monitoring tools, smoke and vaping sensors, there will be a healthier and happier growing and learning environment for students.
Adoption challenges in involving IoT in education
While the benefits of IoT in education are numerous, there are still some challenges ahead of us. The fact is that it could be some time before IoT enters the mainstream education industry. Here are some of the major challenges educational institutions and ordinary household faced that have stifled the success of IoT applications.
High cost: Budget comes first! It's prohibitively expensive to apply IoT technology in education since a large amount of hardware and software are required. Additionally, it would be necessary to hire a skilled tech team to ensure the effective implementation of an IoT system.
Security and safety issues: Security is another major factor we should take into consideration. Almost all cloud software is subject to various risks and cyber threats, and the deployment of IoT in the education sector confirms the rule too. It's essential to increase the awareness of data security and build contingency plans for attacks or other threats.
Inadequate internet access for IoT devices: Although the Internet has become widespread among most households, there are still some households, especially low-income rural households, that cannot afford internet connections. This would pose a challenge when those students are expected to access studying materials online from home.
Blue Light: Since most IoT devices require users to be exposed to blue screens, this can have some impact on students' eyes. In particular, excessive exposure caused by prolonged use is extremely detrimental to the healthy development of students' eyesight.
Deploy your IoT in education with MOKOSmart sensors
MOKOLoRa, a company that has been developing IoT products for more than 16 years, devotes itself to helping enterprises tap into the potential of smart IoT technologies. With our help, educational institutions are available to develop LoRaWAN-based student monitoring solutions, attendance recording automation, distance learning platforms, real-time equipment monitoring systems, as well as others. In all, MOKOLoRa will be your best choice for tailoring IoT aggregators.