Food is a basic need for everyone, and the importance of agriculture cannot be overemphasized. As technology continues to evolve, disruptive innovations have brought dramatic changes to every aspect of our lives, and agriculture is no exception. Stable and progressive agriculture industry is extremely essential to meet the need of the world's ever-increasing population. In smart agriculture, IoT technologies can not only be found in analyzing and managing soil, crops, and waters but also to monitor and track livestock, another significant aspect of farming. In this passage, we'll take a closer look into how LoRaWAN technology is integrated into livestock tracking system.
Why is LoRa animal tracking necessary
Difficulties in tracking and monitoring cattle and sheep
Traditionally, both cattle and sheep were monitored and tracked manually and were confined to farms by building physical fences. Keeping track of every animal in vast grasslands or sparsely populated rural areas can be a daunting task for farmers, and classifying the behaviors and actions of cattle and sheep can be a headache. During grazing, some animals may be lost due to accidents such as tripping, illness, falling into swamp traps, etc. Theft and natural disasters are also some of the factors that challenge smooth tracking and herding.
LoRa enabled precision livestock tracking system
Undoubtedly, the advancement in modern technology has made it possible to track and monitor livestock automatically. Cattle and sheep can be tracked individually with the adoption of available technologies such as RFID, Wireless sensor networks, and Low Power Wide Area Network (LPWAN). RFID technology offers a pretty good battery life of up to 15 years but its area coverage cannot be ideal enough. In the Wireless sensor network, data can be sent through the sensor node but the power consumption is very high and every node requires a GSM module and must be recharged along with the battery.
Thus, a long-range and low power system is necessary which can be achieved by using LPWAN. LoRa is such a wireless technology developed for low-power wide-area networks. This technology is an exciting development of low power, long-range wireless transmissions. LoRa technology can create low-weight and low-cost tracking devices that can be safely deployed on animals, thus establishing virtual fences to keep the farm animals in a confined area.
How do livestock tracking system work
The implementation of an entire livestock tracking system consists of both hardware and software: LoRaWAN sensors, LoRa-based gateways, network server, mobile app. Small and light LoRaWAN-enabled sensors and trackers are placed on the ear or collar of each animal, providing pervasive real-time data from location information to health indications. Gateway devices continuously receive data from the end nodes and forward it to the cloud. The mobile application then retrieves data from the cloud and provides farmers with the location of the animal and displays the surrounding conditions of the animal respectively.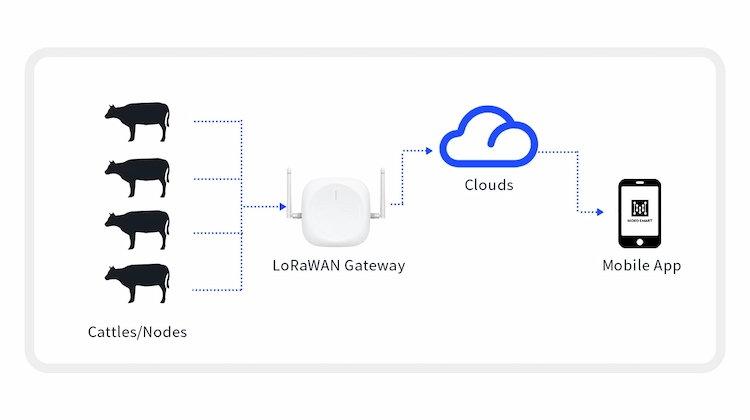 Due to LoRaWAN's low-power and long-range wireless qualities, low-cost LoRaWAN sensors are available to collect and send data from the farm to the cloud where further behavioral analysis can be made to improve operations. Farmers and ranchers are accessible to track their herd across hundreds of miles and monitor vital signs to determine the condition and stress levels of cattle. Ranchers will be notified when sensors are removed or when they venture away from a given area.
Features of livestock tracking system tracker
MOKOLoRa LW001-BG Pro is a LoRaWAN GPS tracker suitable for indoor and outdoor positioning, which is available in livestock tracking system, building construction, logistics tracking or other industrial environments. The product is drop-resistant, wear-resistant, waterproof and can resist other harsh environments.
4 different working mode designs, including Standby mode, Timing mode, Periodic mode, and Motion mode
Multi-positioning technology (GPS+Bluetooth+WIFI)
Proactively locate requests
Support vibration detection
Support idle detection
Anti-demolition alarm
Local data saving
Magnetic induction switch
IP67 dustproof and waterproof, IK09 anti-collision (collision level to be tested)
Double-sided adhesive backing, screws, straps, guide rails and other diversified installation methods
The life expectancy can reach about 5 years in typical applications
Benefits of LoRa livestock tracking system
The benefits of LoRaWAN livestock tracking system solutions are bountiful and appealing, and more and more farmers are rapidly adopting this powerful technology not only to improve efficiency in day-to-day tasks but also to secure the welfare of their livestock.
Pinpoint the location of herds in real-time
LoRaWAN-enabled livestock tracking system supports multiple positioning technologies such as GPS, WIFI and Bluetooth, giving farmers the ability to accurately monitor and track their cattle and sheep in real-time without worrying about any losses. With LoRaWAN sensors outfitted on the collar or ear of animals, constantly notifications will be sent to your mobile device to help you grasp the location and condition of your cattle or sheep.
Identify animals easily
Individual identification is a prerequisite for animal behavior monitoring, accurate feeding, disease prevention and control, and food traceability. In the traditional animal husbandry model, common recognition techniques include labels, ear clippings, ear tags, collars, etc. Advanced technology makes the identification of individual animals more intelligent, and ranchers can get most of the basic information such as birth date, health records, vaccinations, breed, etc. in no time.
Increase efficiency and reduce manual labor
Livestock management is complex, and manual tracking and inspection of the animal can be a hassle and tedious task. However, with the adoption of LoRaWAN livestock tracking system solution, your day-to-day task seems to be easier than ever. There is no need to keep an eye on the cattle or sheep manually, and you'll get all the necessary information with a tap on your mobile device. Farmers and ranchers can save more time for value-added tasks.
Secure your farm
Smart devices not only show care for your cattle and sheep but also secure your other assets like buildings, equipment, fodder, and other necessary items you put on the farm. There is a highly accurate location on your assets with the built-in LoRaWAN sensors, which allows you to monitor and track everything virtually on your farm, from cattle to beehives, thus maintaining full security for your farm.
Weather changes alerts
Weather is an essential factor that should be taken into consideration during grazing. It's true that weather changes are uncontrollable and can change anytime, anywhere. What farmers can do is you can predict the weather changes and obtain real-time weather alerts about the conditions on the farm and its neighboring areas so that instant actions can be taken to protect your animals and assets.
A look into the future of smart farming
IoT solutions built on LoRaWAN represent an important trend in ranching, along with other potential technologies such as artificial intelligence, big data, cloud computing, and blockchain, all of which have brought new momentum to the livestock industry.
Cloud-to-end livestock environment monitoring
With the rapid development of Internet of Things technology and communication technology, intelligent terminals with sensors are enabled to continuously transmit the ranch environment data to the cloud, which are then presented on mobile applications, tablet computers, computers, etc. This large-scale digital management can further improve livestock production and solve the challenges faced in practical applications.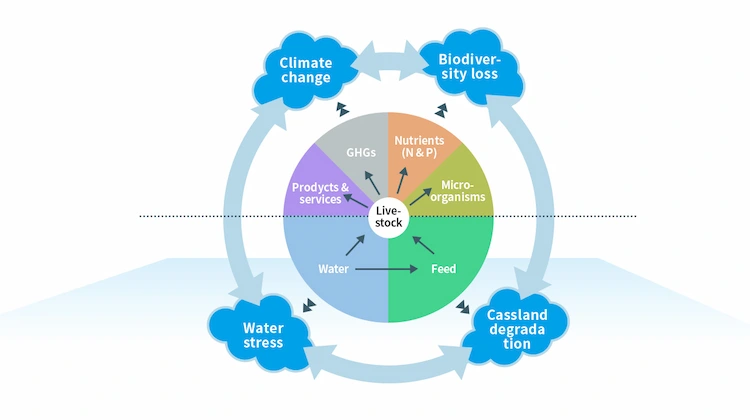 Intelligent and precise livestock breeding
Smart technologies such as automatic feeding, and weighing will put in better combination with intelligent breeding to accelerate the process of intelligent and precise livestock and poultry breeding. The big database of breeding environment monitoring will provide important decision-making references for accurate breeding such as basic information, behavior, breeding information, environmental temperature and humidity, etc., so as to achieve a smart farm, including intelligent and accurate health management, accurate prediction of estrus, automatic supplementary feeding, pasture management, and more.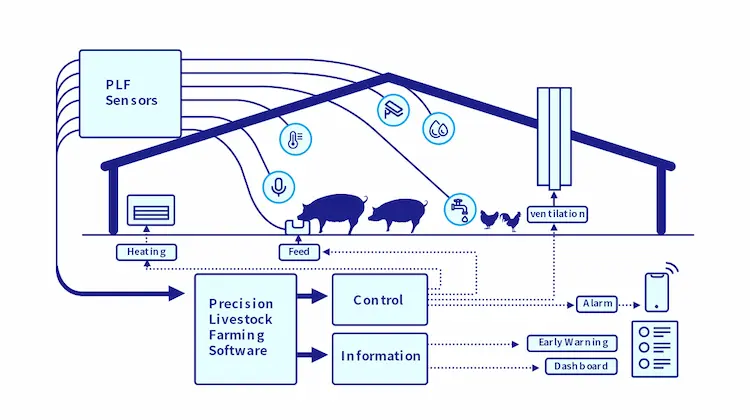 Animal facial identification
Some large livestock companies have invested in animal facial recognition software. By constantly collecting facial data from animals, we can observe changes in animal health, behavior, and more. Artificial intelligence identification technology can play a huge role in wildlife protection, animal disease early warning, video tracking, animal/pet loss, etc., and will be applied to smart farms to monitor the health status of cattle and sheep in the future. With the support of big data, livestock and poultry breeding enterprises can monitor the food, water intake and behavior patterns of cattle and sheep, providing a more accurate scientific basis for precision breeding.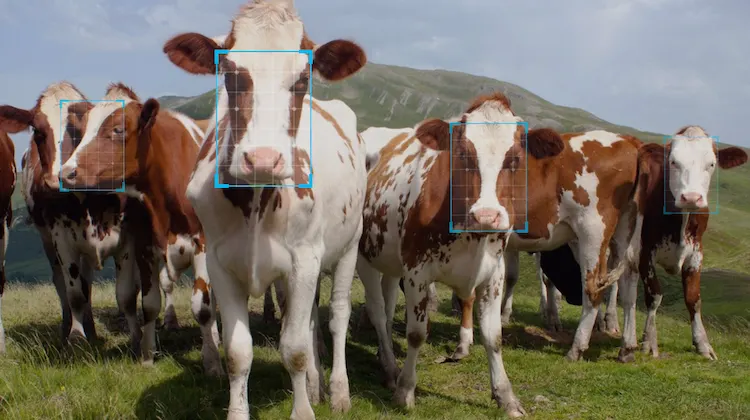 Blockchain livestock tracking system product traceability
The integration of blockchain and smart farms will take food safety traceability to the next level. Due to the decentralized, asymmetric encryption algorithm and immutable data features of blockchain, the traceability of food sources has been better enhanced, thereby ensuring the traceability of all aspects of the animal husbandry industry chain from ranch to the table, providing consumers with better services and experience.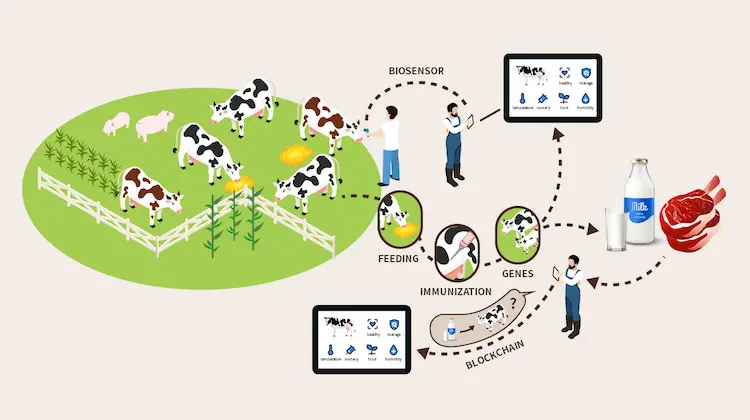 Precision livestock tracking system from MOKOLoRa
MOKOLoRa offers end-to-end cattle tracking solutions that include sensors, gateways, and mobile software. With the MOKOLoRa LW001-BG Pro tracker, ranchers are now able to remotely monitor and track the location of livestock and keep alerts for early signs of accidents. While your cattle and sheep are grazing, you can stay on the farm and watch them move through your smartphone. LoRaWAN technology will open up a wide range of possibilities if integrated properly into farms and other agricultural sector. For further LoRaWAN information, please talk to our expert.