Sports competition is a symbol of human peaceful competition, which can promote cultural exchanges and enhance the spirit of unity and cooperation. Sports information technology integrates various information technologies and sports events to provide significant and full support for competitions. In marathons or ultramarathons, 5G and other cellular network communication technologies are nothing new now. For example, the marathon site made full use of 5G technology to promote the event and broadcast the event live. What you may not know is that LoRa is now making its way to sports events as well. This post will explore a LoRa-based solution for marathon runner tracking.
LoRa advantages in cross country marathon races
As far as marathon races are concerned, the competition sites are often set in urban areas, mountainous areas, dense forests, seasides, etc. Such areas are often racing blind spots where the network is beyond reach, that is, "no signal coverage". In this case, it's time-consuming and laborious to deploy the carrier network. However, the LoRaWAN network comes with long-range connectivity, making it easier to set up a private network and enabling easy and cost-effective real-time marathon runner tracking of racing events.
In general, LoRa has enormous advantages in marathons and ultramarathons, which can be classified into the following four points:
Wide coverage. The long-distance feature of LoRa is exactly what long-distance marathon events need. With LoRa's long-distance data transmission, it is possible to use a small number of gateways to cover the entire event area without dead ends. When the race area lacks cellular network coverage from the carrier, LoRa coverage is the best choice.
Remarkable immunity to interference. LoRa uses spread spectrum technology, making it normal to receive up to 20dB under noise and immune to stronger burst random interference. The super anti-jamming features can also ensure the stable uploading of athletes' data.
Low power consumption.Power consumption has always been a significant competition point for wireless communication technologies. Especially in long-distance competitions, the battery life of portable electronic devices is more demanding. LoRa stands out with its super low-power consumption features. The wristbands, sirens or trackers used by participants have very low-power wireless connections and can guarantee extremely long standby times.
Easy deployment and low cost.In terms of deployment, LoRa has strong flexibility, scalability, and convenience. The LoRa network can be deployed according to specific needs, and its base station can be adjusted based on the environment and terminal location. LoRa can enhance or extend the network coverage at any time depending on the change of nodes. It enhances triple security from the physical, network, and application layers to meet a wide range of data privacy needs.
How to track marathon runners with LoRa devices
The marathon runner tracking system is based on a LoRa network consisting of LoRa gateways and a set of mobile LoRa trackers worn by runners. In general, the LoRa gateway is fixed high and cannot be blocked, and mobile nodes are responsible for collecting data that gives the runners positions and vital signs to be monitored. The race organization can then connect the gateway to the local application server via wired or wireless way.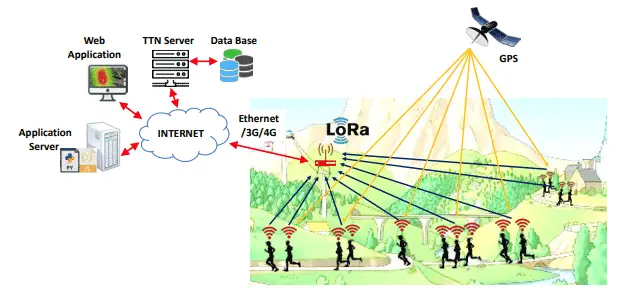 Each runner is equipped with a LoRa-based sensor, which can transmit the real-time geographic location and physical state information of the participant to the gateway in time. Besides, it will incorporate a panic button, which can issue a warning in order to get assistance from the developed platform and the race organization. All these data will be sent to a database through the network, allowing the race organization and members of the racing public to check the location of runners and their history of vital signs.
Benefits of LoRa-based live marathon runner tracking
When LoRa is combined with marathon races, there are enormous benefits, including carrying live runner tracking and enhancing runner safety and security. The technology has immense potential to transform marathon races by gathering runners' data. Some of the key benefits are as follows:
Live marathon runner tracking
Right from the time runners start their race journey with LoRa trackers, they are detected and identified by LoRa gateways. The speed and movement of the participants are tracked by the gateway. The real-time location information can be easily accessed by runners, race organizers, and marathon fans, presenting a visible and accurate runner tracking map of all the participants.
Optimizing race processes
Marathon races often involve a large number of runners and audience, and the course covers a long distance, so it's a big project to streamline and optimize every process. Especially at the beginning or end of the race when runners need to provide various services, it's difficult to determine their location. The LoRaWAN runner tracker makes it accessible and convenient for the organization staff to provide better service and better runner experience.
Reducing the risk of running injuries or lost
In the cross-country marathon, fatigue, dehydration, darkness, and cold are all dangers that athletes may encounter. Therefore, it requires runners to have a high level of training and auxiliary equipment to ensure the safety of the participants. Race organizers can cover the marathon courses simply and efficiently via the LoRa network to monitor the real-time location of all the participants. Especially when runners come across situations that they were not prepared for or haven't predicted, an alert can be sent for a timely rescue.
Improving runner performance
Marathon participants have been preparing for a period of training before the race to improve their endurance and strength. With the LoRaWAN tracker, they are accessible to a wealth of information and statistics about their progress and the remaining routes. Therefore, runners can make better arrangements on their speed and strength based on these information, resulting in better performance and race results.
Increased precision and accuracy
Marathons are usually long-distance foot races, and it's of great significance to provide consistent, reliable, and accurate location data of runners during the whole competition. When combined with the robust network coverage of the LoRaWAN standard and reliable tracking sensors, event organizers are enabled to access continuous, accurate, and real-time participants data, which is critical to ensuring the safety of runners and helping to run a successful marathon race.
Enhancing fan engagement
Marathon race organizers are integrating modern information technologies and high-tech devices to boost the experience of the audience, whether they are sitting in front of their living room TV or just standing at the marathon site. The LoRa-based marathon tracking solution enables them to track the location of the runners, increase their understanding of what the runner is going through during the race, and generate deeper insights.
Toe des Geants trail running races in Italy
The annual Toe des Geants in Italy is one of the toughest races in the world. Participants are required to run 330 km in less than 150 hours, including an altitude change of more than 24,000 meters, and they need to run 24 hours a day for several days, resting only in tiny intervals of up to 20 minutes.
The race organizers have been leveraging the positioning and tracking capabilities of LoRa technology since 2017 to monitor the location and vital signs of runners during the race, with the aim of helping ensure their safety. The LoRa-based marathon runner tracking solution enables race organizers to track some 900 participants over hundreds of kilometers in real time, providing them with accurate and reliable data to prevent the participants from getting injured or lost.
It's worth mentioning that during the 2019 race, an athlete was remained on the edge of the course for some time due to cold and dehydration. Luckily, the LoRa tracker he was carrying reported the abnormal situation, and he was able to get help from the rescue team in time and was subsequently transferred to the emergency room.
Future trends of LoRa implementations in sports events
The deployment of LoRa networks is growing and the number of devices is expected to have tremendous growth. In fact, LoRa has been applied in many sports events other than marathon runner tracking. It is reported that the horse endurance race held in Abraabi has deployed a LoRaWAN network to track the horses during the whole race. In addition, the Prestige Cup held at SwimRun Cte Vermeille also adopted a hybrid network form of mobile network and LoRaWAN.
It's optimistic that LoRa has a certain potential in the application of the sports industry. In the future, we will see more and more creative and meaningful integration of LoRa technology in events and competitions. The advancement of science and technology is profoundly changing our lives, and the application of cutting-edge technology in the sports industry is the general trend. The integration of future technology development and sports application scenarios will reshape the Internet sports industry, and LoRa will play a more prominent role in the sports industry.
Customize your live runner tracking solution with MOKOLoRa
LoRa is undoubtedly changing the way people interact with the real world, and sports events are no exception. It is not surprising to know that it has already penetrated its pace into marathon runner tracking. MOKOLoRa is a leading LoRa hardware and solution provider around the world, and we can supply you with reliable and robust LoRa gateways, sensors and modules. Please consult our LoRa experts to solve your IoT challenges and scale.